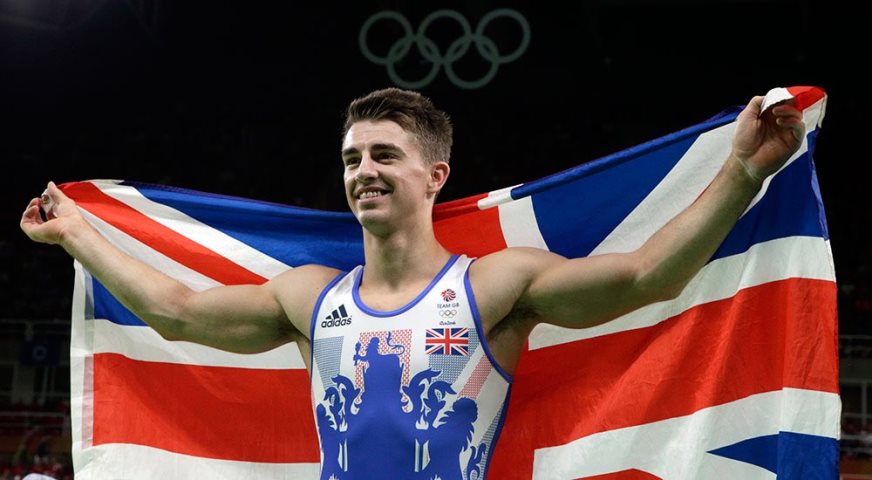 Olympic and Commonwealth Games champion Max Whitlock gave pupils at his former primary school a St George's Day to remember!
The 25-year-old visited Nash Mills Church of England Primary School on Monday to show off his skills and his medals to the pupils. Whitlock, who has now won 27 major championship medals in his career, attended Nash Mills Primary before moving on to Longdean School during his time in Hertfordshire.
The Hemel Hempstead-born gymnast now lives and trains in South Essex but made the trip back on St George's Day to show off his latest medal – the gold and silver he won at the recent Commonwealth Games in Australia.
"It's very strange to be back, all the memories are coming back and they're great memories," he said. "This is a school that supported me through those primary years and it's good to come back and visit – I've had an amazing welcome. It's good to be here and it reminds me to do it even more often. It's great to recognise the support I've had behind me all these years. I've been very lucky. The support from my primary and secondary schools is great."
Whitlock conducted a question and answer session, handed round his medals for the children to see, gave a brief demonstration of his skills and joined in a PE lesson.
And for headteacher Rosie Washford Mower, the experience is one that will live long in the memory.
"It's unbelievable to have Max here, but not just for the children, for the staff as well," she said. "It was a really busy, full-on morning. I don't think the children will forget this day, ever. And neither will the staff. To have somebody inspirational is one thing, but to have somebody who is not only inspirational but also sat in this school as a child, on this floor for assembly every day and came in to have PE – you don't get that very often."
Whitlock's first stop upon arriving at Nash Mills was to visit a Year 3 class off on a school trip and unable to be part of the assembly. He then joined in a PE lesson and gave one pupil's efforts the Olympic champion seal of approval.
"It's really amazing having Max here because he's a world champion and inspirational person," said 11-year-old Georgia. "I hope to be like him one day. I do gymnastics outside of school, it's probably my favourite sport I do. Knowing that he came to our school is really cool. He said that he really liked my jumps and gave me a high five – a good way to start Monday."
Team England Official Partner npower organised for gold medallist Max Whitlock to return to his former school, Nash Mills Church of England Primary School Hemel Hempstead, to celebrate St George's Day and to thank the school for the power of their support during the 2018 Commonwealth Games
(Source: Phil Jones, Sportsbeat)