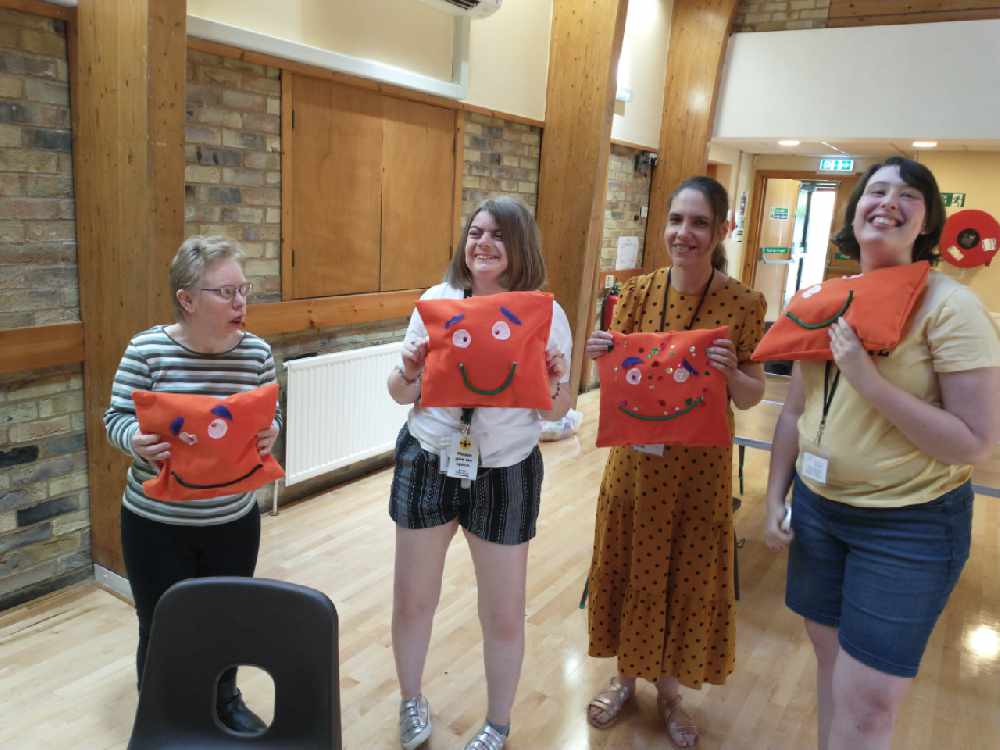 Credit: Hertsmere Mencap.
This month sees the return of Learning Disability Week (14th – 20th June).
The annual event is being marked by groups and services in South West Hertfordshire.
Organised by Mencap, the 2021 campaign centres on art and creativity.
The charity are encouraging people with a learn disability to 'get creative,' and showcase their work on social media using #LDArtWeek.
Paul Moser, Chair of Hertsmere Mencap, said:
"At Hertsmere Mencap, our members celebrated the start of Learning Disability Week by creating Happy Pillows to tie in with this year's theme of Art and Creativity.
"For over 50 years our mission has been to improve the quality of life for people with a learning disability and their families and reduce the risk of loneliness and isolation."
Andrew Godfrey, Managing Director for Learning Disabilities and Forensics Services at Hertfordshire Partnership NHS Foundation Trust added:
"One of the main things we are doing to celebrate Learning Disabilities Week is getting onto a bus - but this is no ordinary bus ride!
"The bus has been expertly converted to provide 'The Autism Reality Experience', a training event which gives non-autistic people an experience of the sensory processing difficulties faced by people on the autism spectrum.
"This is an innovative and hands-on training experience which will help our teams to provide even better care for people with autism spectrum conditions."
Learning Disability Week celebrates the important impact individuals from this community have on our society.
It also draws attention to issues such as stigma and discrimination.
COVID-19 has been difficult for people with a learning disability – where feelings of social isolation increased, according to research from Dimensions.
Many within the learning disability community are calling for better understanding and representation after the pandemic.
Art and creativity can lead to greater inclusion, visibility and work opportunities for a person with a learning disability.
Hertsmere Mencap offers a range of activities from its Borehamwood site including arts and crafts, coffee mornings along with dance aerobics.
Hertfordshire Partnership NHS Foundation Trust provides community services for people with a learning disability, in addition to residential care.
Community Learning Disability teams deliver specialist health care to adults, and work in collaboration with other professionals to meet individual health needs.
They support people to remain in the community and avoid unnecessary hospital admissions by providing a rapid response, focused assessment or intervention, together with short-term treatment and support for carers.
For further details on Learning Disability Week go to:
https://www.mencap.org.uk/get-involved/learning-disability-week-2021