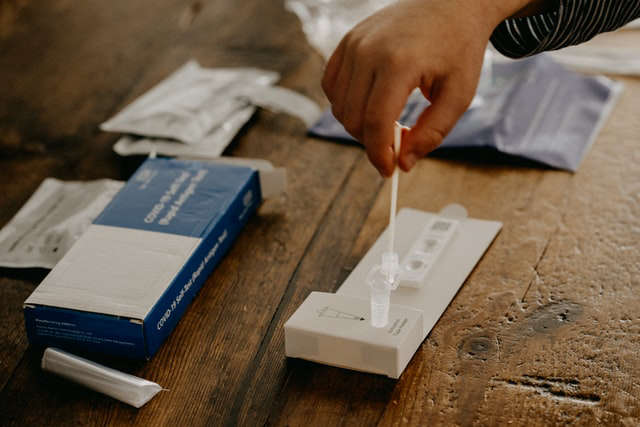 Last Thursday (24 February), the government lifted the remaining coronavirus restrictions in England.
The move was part of a series of changes announced by Boris Johnson, under the new "Living with Covid" strategy – with the onus no longer on mandatory regulations, and vaccinations remaining the first line of defence against the virus.
The steps taken included removing the legal duty to self-isolate in England, and the end of free universal testing from 1 April.
Both the government and UK Health Security Agency (UKHSA) have said they will continue to communicate with the most vulnerable on available clinical interventions, testing and public health advice.
Additional boosters are to be offered this spring to vulnerable cohorts including the over-75s, older care home residents, as well as individuals aged 12 years and over who are immunosuppressed.
Limited symptomatic testing will also be available from April for a small number of at-risk groups, with further details still to be determined by UKHSA.
However, some charities have raised concerns about the government's decision to remove all mandatory restrictions in England, and what this will now mean for the clinically vulnerable – including those who are immunocompromised.
Over half a million people in the UK have a weakened (compromised) or impaired (suppressed) immune system, meaning their ability to fight infections and other diseases such as Covid-19 is reduced.
This can be due to chronic conditions, or caused by medicines and treatments which suppress the immune system.
The lifting of restrictions within England has caused a mixed response amongst those who are immunocompromised in Hertfordshire.
Based in St Albans, Fiona Loud is the Policy Director of Kidney Care UK – the country's leading kidney patient support charity.
The charity is calling for highest risk people and their contacts to have access to free testing, along with continued workplace protection for the immunosuppressed.
Kidney Care UK are also concerned the government's updated Covid-19 guidance for individuals whose immune system puts them at greater risk, will not give enough protection to those affected.
Fiona Loud who has a kidney condition herself said: "As immunosuppressed people with kidney disease, we've gone through the last two years with varying levels of anxiety and isolation. What others may have referred to as restrictions, we thought of as protections.
"With no requirement to self-isolate if Covid positive and (soon) no lateral flow tests we will be exposed to a far greater level of risk, and sadly we have seen no plan for providing preventative treatments.
"Being immunosuppressed means that you are less likely to gain the same protection from the Covid-19 vaccines and more likely to do badly if you get Covid.
"This is not a happy feeling and there is an impression that we are going to be left behind while the rest of society moves on."
Kirsty Drury, a Brain Tumour Research campaigner from Tring, was diagnosed with a spheno-orbital meningioma (SOM) in November 2019.
She is still living with part of her brain tumour, which is grade 1 and non-cancerous, but the bulk of it was removed during a 16-hour operation on 26 November 2020.
Her condition means she will require three Covid-19 vaccines, in addition to a booster, but she does not consider herself immunocompromised like a cancer patient might.
Of Boris Johnson's Covid plan, Kirsty commented: "I fully support the lifting of restrictions. Dealing with a brain tumour diagnosis and major surgery during the various lockdowns has been very difficult.
"The emotional scars are as big as the physical ones. I'm looking forward to the wonderful distractions of normal life, seeing my family and friends and international travel."
Hitchin resident Claire Van Lelyveld, aged 38, is currently being treated for uterine sarcoma, a form of gynaecological cancer diagnosed in October 2021.
She said: "As someone being treated for cancer, I fall into a group of people who are immunocompromised and therefore more vulnerable to serious illness if we catch Covid-19.
"The end to the legal requirement to self-isolate after a positive test leaves me feeling anxious, but I will continue to wear a mask on public transport and isolate if needed in the hope that other people will do the same.
"I don't think replacing legal requirements with guidance will make people feel compelled to keep away from others and test themselves if they're displaying symptoms, especially if tests aren't free anymore. It's definitely a worry for me, and many others in a similar situation."
Teresa McCormack, 52, from Royston, was diagnosed with breast cancer for the second time in January 2021 and underwent six months of chemotherapy treatment, followed by surgery.
She has been receiving Herceptin injections ever since to reduce the risk of her cancer returning.
Teresa said: "I'm pleased the restrictions are over and feel that as long as I'm sensible and careful around others, I'll be fine.
"I don't think people will be following government advice to self-isolate if the company they work for no longer has the obligation to pay them.
"With this in mind and the cost of living going up, I think anyone would be hard pushed to want to isolate. Masks will still be worn by some, but I suspect most won't want to anymore.
"And as for testing, I don't think people will bother doing them because private companies will charge extortionate prices and they simply won't want to pay."
As part of the "Living with Covid" strategy the government has stated it will protect vulnerable people through pharmaceutical interventions and testing, in line with other viruses.
The successful rollout of the vaccination programme has meant that people previously considered clinically extremely vulnerable (CEV) are not being advised to shield again, but to continue following steps to stay safe.
However, there remains a small number of individuals whose immune system means they are at higher risk of serious illness from coronavirus, despite vaccination.
Last year, results from the national Octave trial found that 60% of people with immunosuppression responded to the coronavirus injection, developing an antibody response equivalent to that of a healthy vaccine recipient.
The study also revealed 40% of immunosuppressed patients had a lower response to two primary vaccines, whilst 10% had no response at all.
In response to these findings the government advised people within this group to take an additional third dose of the Covid vaccine in 2021.
Last Monday (21 February), the Joint Committee on Vaccination and Immunisation (JCVI) recommended a further booster for the immunocompromised this spring – to maintain high levels of immunity.
Professor Wei Shen Lim, Chair of COVID-19 vaccination on the JCVI, said: "Last year's booster vaccination programme has so far provided excellent protection against severe Covid-19.
"To maintain high levels of protection for the most vulnerable individuals in the population, an extra spring dose of vaccine is advised ahead of an expected autumn booster programme later this year.
"The JCVI will continue its rolling review of the vaccination programme and the epidemiological situation, particularly in relation to the timing and value of doses for less vulnerable older adults and those in clinical risk groups ahead of autumn 2022."
If you are immunocompromised and worried about coronavirus restrictions ending or need help with a condition, details on how to find support are available from the Kidney Care UK, Brain Tumour Research and Macmillan Cancer Support websites.