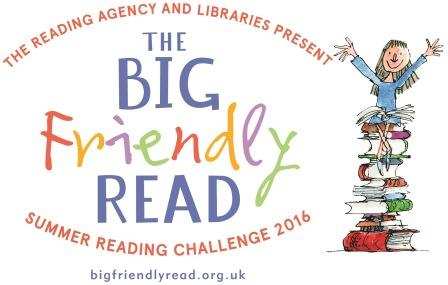 Hertfordshire County Council's library service invites children to take part in this year's Summer Reading Challenge and discover the magical world of master storyteller, Roald Dahl.
As 2016 marks the centenary of his birth, the event will celebrate Dahl's best loved stories including Charlie and the Chocolate Factory and The BFG. Wonderfully illustrated by Quentin Blake, the books feature iconic characters and themes including mischief, invention, adventure and friendship.

'The Big Friendly Read' will launch in all Hertfordshire Libraries on Saturday 16th July. The aim of the challenge is to encourage children to read six books from their library during their summer holidays and then come back to the library and talk about them.

They can read anything from storybooks and factual books to talking books and e-books, which can be downloaded for free from the e-library. It is completely free to take part; all children need to do is visit their nearest local library between Saturday 16th July and Saturday 10th September for a joining pack, while stocks last.

There are limited edition Quentin Blake collector cards up for grabs, and medals and certificates will be awarded to children who finish their six books. Children who finish by 10th September are in with a chance of winning an invitation to an exclusive author event during October half-term. Children can also discover more fun and games on www.bigfriendlyread.org.uk.
Last year, 18,600 Hertfordshire children took part in the event and Hertfordshire County Council is hoping for a repeat performance this summer.

To support the children, Hertfordshire County Council will recruit an army of volunteers aged 14 and above. This offers young people a great opportunity to make a positive contribution to their local community.

Teresa Heritage, Cabinet Member for Public Health, Localism and Libraries, said: "The Summer Reading Challenge offers a wonderful opportunity for children to discover a love of reading and develop a lifelong passion for great storytelling."

Volunteers can register by visiting www.hertfordshire.gov.uk/libraries, following the link to "Volunteer at your library" and selecting the link to the Summer Reading Challenge volunteer role. For further details, please email srcvolunteers@hertfordshire.gov.uk, call on 0300 1234049 or drop in to your nearest library.

To find out more about volunteering in Hertfordshire, visit www.hertfordshire.gov.uk/volunteering.
(Source: Hertfordshire County Council)