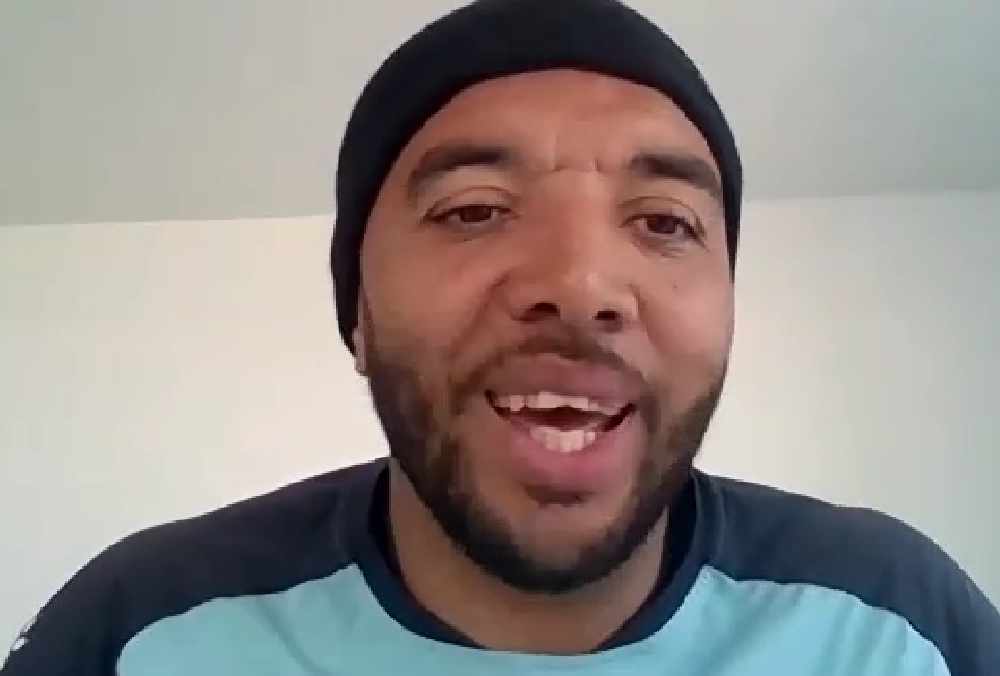 Watford club captain Troy Deeney took up media duties this afternoon and reflected on the successful season, the challenges ahead in the Premier League and his own road to recovery from the achilles injury which sidelined him in February.
There was good news from the Press Conference, as Deeney confirmed that he is match-fit for Saturday's game against Swansea. "I hope to be involved on Saturday if selected, getting ready for what is the ending of a very positive season for everyone involved, and just looking forward to enjoying the last game of the season for what it is, we've had a tough year and I'm glad everyone can enjoy the last game with no pressure."
"I've been training now for a couple of weeks, just same old building up to it. I'm a little bit annoyed the season's ending but it is what it is, it just gives me the motivation to work all throughout the summer."
"An achilles injury isn't an easy injury, but I've been told by the surgeon and professors that this will move me as if I've never had an achilles injury."
The progression this season has been credited to a system change, returning players from injury and the arrival of Head Coach Xisco Munoz, and Deeney made sure to credit the Spaniard on his job since his December appointment. "It's chalk and cheese from to the start of the season to the second half, he's given the boys a freedom, a character, an identity. You feel that energy, that happiness, it pours out of him and you can't help but like the man. I think he's been great, he deserves a lot of credit.
"He's that engaging type. I think after five minutes where they (the fans) give a song, or do 'give us a wave' he'll do that. He's also smart enough to understand moments in the game, and if he feels that the team need a pick-up, I'm sure he'll call on the fans. I actually picture him leading the crowd like an orchestra when he needs them, like 'time to go, come on!'. I hope everything goes well because he's a great guy, and I think the excitement will be there for everybody (when fans return).
"We started (the season) off with five at the back and we've got the best midfield in the league by far man-for-man, so it was a case of getting the right players in the right areas, and make it less complicated. There were a lot of things that happened behind closed doors, players leaving, players staying all of these different things and it adds confusion. Not to bash the previous manager (Vladimir Ivic); he had a tough job of trying to sort out who his actual playing squad was in a difficult year, so there were a lot of things happening in the background but all of the negative stuff has now hopefully gone and we can look forward to a bright future. We know it's not going to be easy in the Premier League, but if we've got the togetherness we currently have, a manager that's happy, enjoyment, and obviously add the fans to that, it's gonna be a great year if we can achieve what we want to achieve."
Watford don't have their second place finish at stake this weekend, having secured promotion last month. Deeney assured that they will still aim for the three points but also mentioned that maintaining the performances of recent weeks can be tough when the job is done. "It's difficult because you've had all the pressure of getting to the top of the mountain and once you're there, you'll naturally get a dip. And we're playing good teams, Brentford aren't a bad team, Swansea aren't a bad team, so it's probably gonna show a bit more."
"At this moment in time it's job done. Let's enjoy it, let's take as little risk as possible in injuries and just try and play football. We do want to end the season on a high, but I do also think we have to be realistic and understand that people are only human."
The Watford squad is packed with promising young talent, and it's clear Deeney is very optimistic about this. But he made sure to stress that these players require guidance from senior members of the dressing room and the coaching staff. Joe Hungbo, who picked up an injury in last week's defeat to Brentford, was used as an example.
"Of course it's a positive (the young talent). I think Joe is massively unfortunate to get injured straight away. That was one of those tough ones because he's so excited and it was over in twenty minutes, and you feel sorry for him. We're all trying to support him and explain to him; because I don't think people understand what it's like to get injured because you're seeing everyone else's day carry on, and you feel like you're being left behind, so just obviously being a captain, an older figure talking to him and trying to explain it.
"There are so many young talented players that are exciting but need guidance. While a fan can go 'this and that player are great', if they're not up to scratch they'll get hammered quicker. You have to protect them and explain what's going on. We have a young, vibrant team and long may that continue and the young boys in the youth team are coming on week-by-week. Hopefully we can all progress because that's what this club has been built on from way before even I was born, there are so many avenues through so we wish to give them that route without exposing them to too much, too soon where it's a detriment."
This season's pre-season was hit by implications due to the coronavirus pandemic, but there is optimism that next season's preparations will run smoothly. "It's massive for any player (a full pre-season). Look at every club that's been hit with injuries at some point, I personally believe that's down to the shorter break, it doesn't matter how fit you are. Clevs (Tom Cleverley) is one of the fittest players we've had, injured. Nate (Nathaniel Chalobah) one of the fittest, injured, Kiko (Femenia), we could go through any part (of the season) and someone has been affected by injury because you need to do that six, seven weeks of hard graft to get all of the stiffness in your legs. When the games come there's no time to train, it's like rest, recover, go again, and I think that's where a lot of people have struggled. We all need a bit of a break (not just footballers) because it's been a crazy fifteen months, but when it's go time, it's go time. Then you get that lovely day where you see the fixtures, and you're like 'yeah, now it's time to work.'"
In 2015 when Watford were last promoted to the Premier League there was an overhaul of players and coaching staff, and whilst Deeney isn't expecting the same this time, he'd like to see some players come in. "A mixture I think, you'd like to get some Premier League experience in there. I'm pretty much like everybody else, I'm completely out of the loop, but you see these things like Youngy being mentioned (Ashley Young), that'd be great, the experience, plus he knows what the club's about."
"It's been a real team effort (this season) and I think that'll be huge next season. I don't think we can afford egos, I don't think we can afford to cater to egos because the Premier League will tear you up."