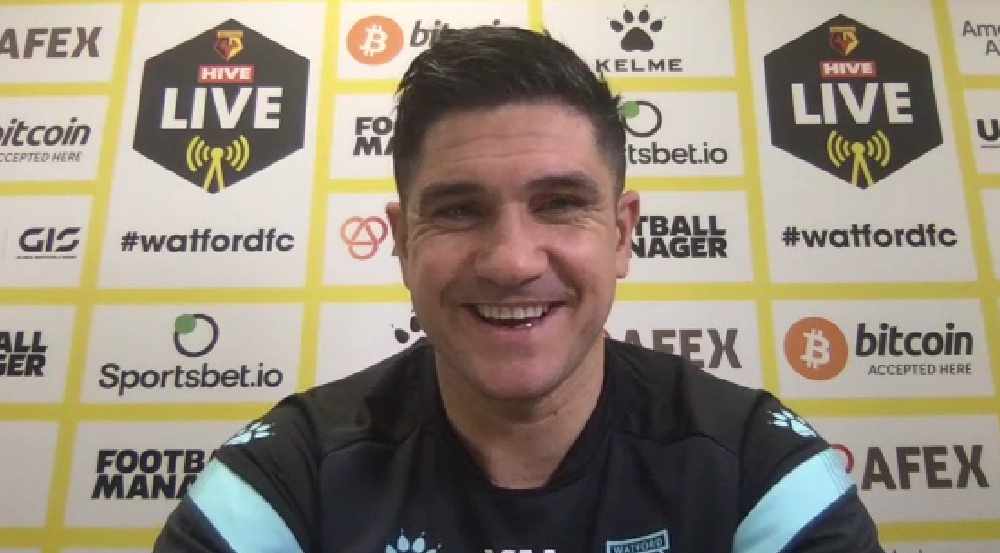 Watford Head Coach Xisco Munoz answered questions from the media ahead of the midweek away tie at Blackburn Rovers. He discussed individual player fitness, a tight fixture schedule and Wednesday's opponents in his presser.
Xisco was not willing to be drawn into discussions regarding promotion aspirations, looking more immediately to the two games this week, away at Ewood Park and at Bournemouth on Saturday. "Right now our focus is in the next game, we will see what happens, I remember in my first game against Norwich if we lost we would have been 12 points behind, now we have a chance everyday to go up, we need to work with intensity until the end."
"We are ambitious, we work with passion but I can't say 100% what will happen, my focus is on the next game."
Philip Zinckernagel is yet to start in the league for the Hornets despite arriving in England before the new year. Munoz is patient with Zinckernagel, assuring that he needs time. "He is a very good player, now is the moment to work hard, we will see when he has the opportunity to play in the first 11, I wish him all the best and when he plays I want him to give the best for the team."
Having played on Friday night, the Watford players have an extra day of recovery and thus, the opportunity to work on the training pitch, a luxury they weren't offered last week with such a busy schedule. The Hornets Head Coach spoke about its importance to Vibe 107.6: "It's very important because you can work through different things, the players can recover because sometimes it's very hard. These weeks are special weeks for us, we can try do give different things and improve tactics."
Xisco has kept an eye on the progress of the under-23's in recent weeks, spectating their last two games. He stated that this was to catch a glimpse of Isaac Success, who is almost back to full fitness following a lengthy absence through injury. "We know we have very good players in under-23s. Isaac (Success) played 45 minutes more yesterday, he is very good for us, every day he is improving with a good physical condition, and also in the game I can see different players that train with us."
On Isaac Success, it seems we may have to wait for a little while longer before he returns to the first team fold. "We have an individual plan for him. He's been out for a long time without playing, and now is the time for recovery. It's important that he continues with this recovery. I think in a little time he will be with us and he is a very good player and he can give us different things.
Despite playing for an hour on Friday it was revealed that Nathaniel Chalobah was combatting an illness before kick-off. Xisco expressed his gratitude towards the midfielder and his commitment to the team: "I want to say thank you to him, he was sick and gave his maximum to the squad, he was good for the team. He is recovering, we will see what happens, we are waiting. Sometimes the players are like Superman, after two or three days sick maybe they can play. But it is important to wait and see."
Chalobah has accumulated 9 yellow cards so far this season, and faces a 2 match ban if he receives another. The Head Coach stated that this didn't have any effect on his decision to withdraw him on Friday night. "It only was a decision because he felt a little tired and was sick before."
Troy Deeney hasn't featured on the pitch since suffering a potentially serious achilles injury in the draw with Coventry City. The club aren't sure exactly how long the Captain will be sidelined, but remain optimistic that he will recover swiftly.