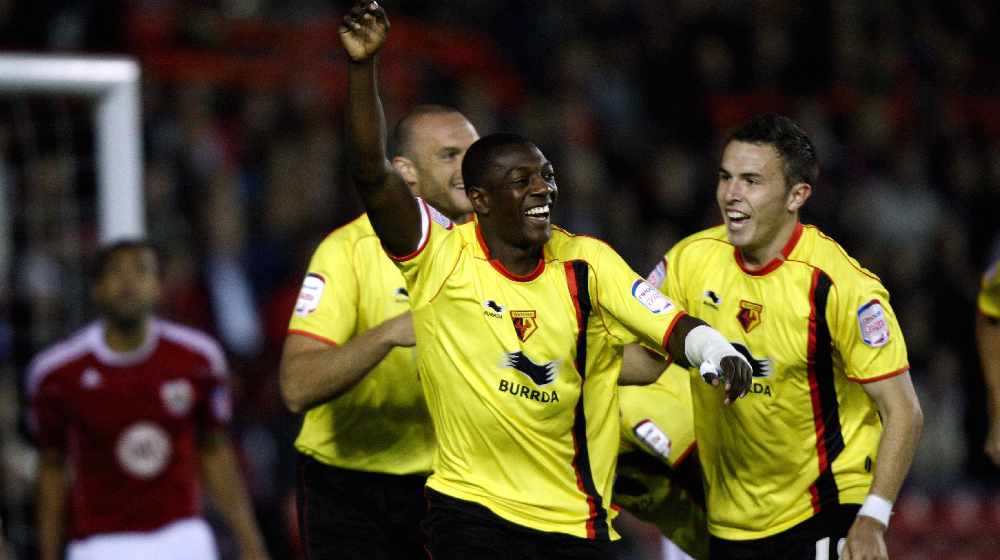 Former Watford FC striker Marvin Sordell
"We don't want anyone to feel different whether playing or watching football"
Joining Vibe107.6 presenter Miles Blumsom on the Breakfast Show was former Watford FC and Team GB striker Marvin Sordell.
An England Under 21 international, the forward who grew up in Pinner and who spent a loan period at Wealdstone FC has played in the Premier League and at the Olympic games.
Newly appointed onto the Football Association's Inclusion Advisory Board, Sordell shared with listeners his excitement in taking on the job:
"I'm really looking forward to this role, the impact it can have and listening to different thoughts and opinions.
"It's a great opportunity for me to voice my opinion and hopefully be able to change the game for a lot of people and make it a more inclusive environment. That is I think something we have moved away from in the last few years. Hopefully I can help to steer the ship back into the right direction."
Highlighting the impact that he wants to have on the game, Sordell said:
"My ethnicity is quite obvious and clear to see, but overall, I'd like to have a wider impact. Not just in the ethnicity sector, but by making football a level playing field for everyone. So that people don't feel like they can't enjoy a game of football because they are going to be treated differently or pushed to one side in a certain sense.
"In all aspects, we don't want anyone to feel different whether playing or watching football. It's trying to create an environment where anyone can turn up and enjoy football in any capacity. That's the end goal and it's all about finding the steps to get us there."
Explaining his take on 'Project Restart' – The Premier League's plan to get the season back underway, the former EPL player said:
"I think the number of hoops that people are trying to jump through, the amount of laws people are trying to change – it pretty much says everything that needs to be said.
"It's very much being forced purely because of the financial aspect. If the financial aspect didn't exist, then we wouldn't see football come back.
"The reason football will be going back at Premier League level is because of the TV deal. A large percentage of games will be televised. There will be more people at a game than players and playing staff."
As top-flight footballers remain financially well equipped, the Hornet's legend shared with Vibe107.6 listeners his opinion on the role that they should play.
"Often people say that because players are earning hundreds of thousands a week, they should just get on with it," he said.
"Although it is wrong and money doesn't equate to health, you have to think about people who aren't earning that much money.
"A physio for example isn't earning that kind of money. He has to be at the game and he can't social distance from anyone. When people think about football going back, I think that they automatically want to be entertained.
"People believe that players should just put up with it. Football is so much more than just football players. It's a strange situation and the game's return is clearly driven by money.
"No one earns money to put health and safety on the line. It's not just a player's personal health. There are a lot of external factors that need to come into consideration before considering financial implications."
To watch the full interview with Sordell then visit: