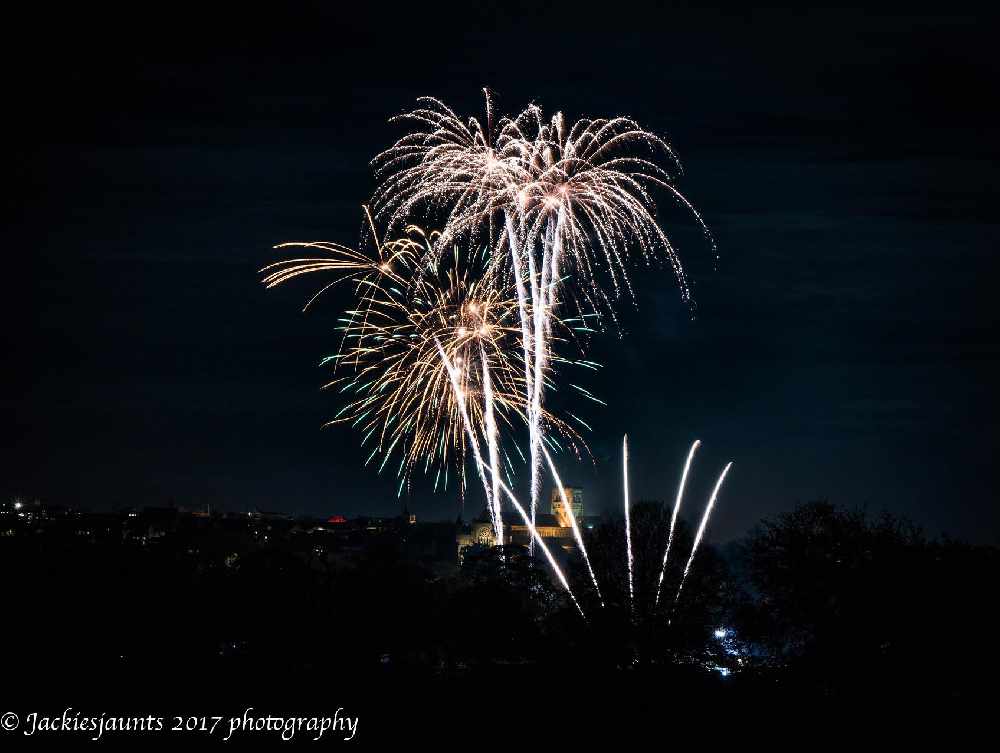 2017 St Albans Fireworks Display. Picture: Jakiesjaunts.
St Albans Cathedral has unveiled its revised proposals for the city's annual fireworks display. People can enjoy this year's 'reimagined' aerial show 'Look Up Together,' right from the comfort of their own homes. The aim is to make the 300-400 foot doorstep display above St Albans visible to over an estimated 50,000 people. Although, this is dependent upon a crowdfunding campaign being 'successful.'
Local residents are being encouraged to watch the display at home, whether it's in their garden, balcony or on the doorstep. The event will also be streamed on the cathedral's YouTube channel. Organisers are working in conjunction with Fantastic Fireworks to stage the presentation, so that it can be viewed from most of St Alban's residential areas. The plan is to launch several ten minute displays concurrently from unnamed locations.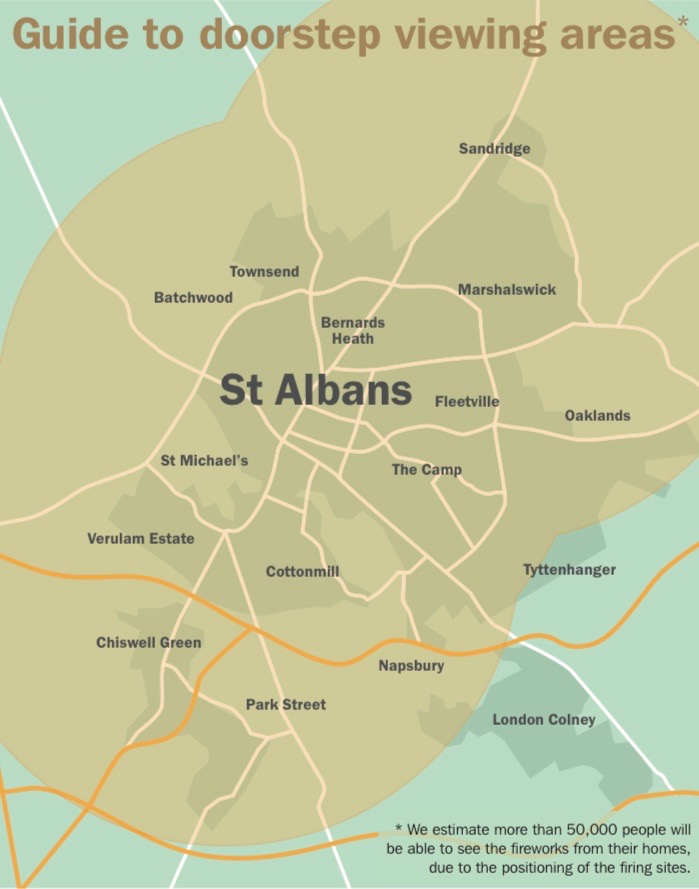 A map showing the areas in St Albans which will be able to see the display. Picture: St Albans Cathedral.
The ticketed event is usually held within Verulamium Park, and regularly draws large crowds. However, the cathedral has been unable to stage this year's outdoor display due to Covid-19. Under current restrictions it is not possible for mass gatherings to occur, and because of this many public displays are being cancelled. Instead of abandoning the display entirely organisers decided that it should still go ahead, but in a reconfigured format.
Chair of St Albans Cathedral Fireworks Committee, Paul Dean, said:
"We were inspired by New York's approach to this year's 4 July celebrations, with Macy's organising aerial displays that could be seen without people needing to leave their homes. So here we are, planning to do something similar in St Albans."
Usually the proceeds from ticket sales would finance the event, yet this has not been possible. The cathedral has therefore needed to find an alternative way to raise money, and is launching a crowdfunding campaign. All donations will go towards subsidising this year's display. For this aerial event to proceed the cathedral needs £20,000 to cover the purchase of fireworks. Nonetheless, they hope to reach a target of £30,000, so that their nominated charities can 'benefit' from additional funds as in prior years. The charitable organisations selected are: The Hospice of St Francis, Youth Talk St Albans and St Albans Cathedral.
The Hospice of St Francis provides free care within Hertfordshire for individuals recovering from, or managing serious illnesses. Youth Talk St Albans is a confidential counselling service for those aged between 13-25 who either live, work, or receive education within the city and district. Finally, money will go towards aiding the cathedral's financial recovery from coronavirus.
The display is set to take place on Saturday 7th November at 6 p.m. For more information visit: www.crowdfunder.co.uk/st-albans-fireworks-look-up-together