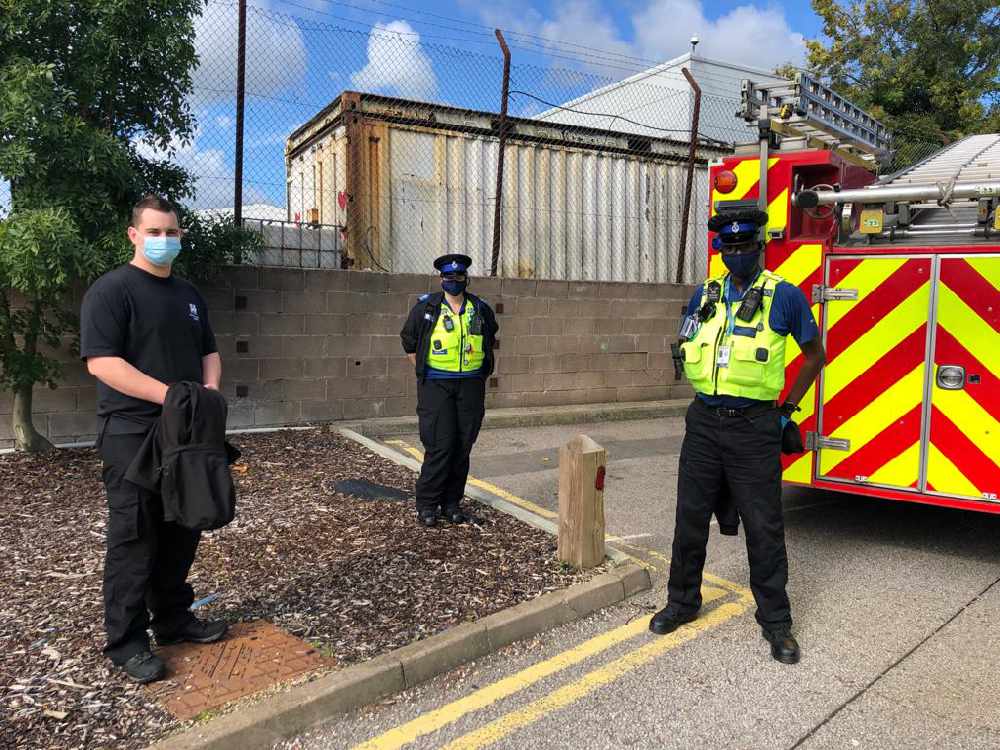 A multi-agency task force sent by Hertfordshire's Local Resilience Forum (LRF) to Hertsmere. Picture: Hertsmere Borough Council.
There has been a rise in the number of coronavirus cases within parts of the county. This initially began in the Dacorum towns of Hemel Hempstead, Tring and Berkhamsted. However, the infection rate is now also rising within Hertsmere.
Over the last week (29th August – 4th September), the Hertsmere district logged 60 cases of the virus. This equated to 57 cases per 100,000 people, whereas other average areas in England had 13.
Councillor Tim Hutchings, Executive Member for Public Health at Hertfordshire County Council (HCC), confirmed 'a significant number of positive COVID-19 cases' were identified in Hertsmere. Borehamwood in particular has seen 'a specific rise'. Additionally, a portion of the district's cases are connected to events wherein multiple households mix.
He added:
"Existing self-isolation and social-distancing measures have not been effectively implemented to contain this local outbreak among the original group of young people (16-19 year olds), in a number of large social gatherings in private homes in the last week of August."
In this instance, transmission of the virus 'did not occur in a school setting' but instead 'through a number of friendship groups within the wider local Hertsmere community,' and North West London.
Councillor Hutchings advised that:
"We now need all residents in Hertsmere to pay really close attention to this serious issue of the spread of COVID-19, as well as working with community leaders, to remind them of the importance of following the government's guidance to minimise the risks of the spread of COVID-19. If we do not get a grip on this local outbreak, then the risk is that schools may need to close."
Yesterday, HCC wrote a letter to the families and carers of children attending schools where pupils are now self-isolating. They issued 'a stern warning' to either 'stop' house parties and private events, 'or face enforcement action of up to a £10,000 fine'.
Its recommendation is that parents should not allow their children to 'organise parties or attend gatherings,' which are likely to involve multiple households and large groups of people. The exception to this rule would be if the event is sanctioned by the school, local authority or is in accordance with current guidelines.
Local authorities also took action over the weekend to prevent a further rise in case numbers. Multi-agency task forces were sent by Hertfordshire's Local Resilience Forum (LRF) to Borehamwood, Hemel Hempstead and Tring calling for residents 'to play their part' in helping to curtail the virus.
What is the current response towards coronavirus from local MPs, and is action being taken within surrounding areas?
The Conservative MP for South West Hertfordshire, Gagan Mohindra, was 'made aware of a small number of localised increases in positive COVID-19 cases across Hertfordshire'. These include the affected areas of Berkhamsted and Tring, which fall within his constituency.
He comments:
"I have been informed by the council that the increases are mostly as a result of younger people socialising in evenings in bars and restaurants, and not adhering to social distancing."
However, Mr Mohindra noted 'the vast majority of constituents' were 'following government guidelines, behaving sensibly and getting back to work' and this is 'exactly' what is needed. He urged for 'everyone to continue to follow government advice, take precautions and stay safe'.
Liberal Democrat MP for St Albans, Daisy Cooper, urged 'residents across Hertfordshire to follow public health advice as strictly as possible.'
She continued:
"The COVID-19 crisis isn't over: the virus hasn't gone away. To protect lives and livelihoods, I urge everyone to wear face coverings, wash their hands, and keep a safe physical distance from each other."
Dean Russell, Conservative MP for Watford, stated there is 'a small number of cases' within the area. Furthermore, these 'have primarily been within a small number of (large) family homes.' Those affected 'have completed and complied with extensive contact tracing activity'.
He went onto advice that 'at present, it has not been considered necessary to introduce additional Public Health measures locally' given the current 'situation is stable'.
However, Mr Russell acknowledged that:
"Should the position change all local bodies are ready to implement measures such as additional mobile testing units, and additional contact tracing".
The ongoing advice also continues to be 'wash your hands, maintain a social distance, wear a face covering where necessary, and get a test if needed'.
Various measures are being implemented within Watford to control infection rates. This includes asking leaders to translate videos into community languages. Local businesses have been contacted, and reminded of the 'need to double down on infection control measures.' Additionally, licensed premises should 'adhere strictly to COVID prevention measures.' Finally, a campaign launched at taxi drivers is underway, with financial help being offered to install a screen to separate drivers and passengers.
HCC recommends individuals who come into close contact with someone infected with coronavirus, should self-isolate for 14 days, along with everyone in their household. If anyone develops symptoms, a test can be requested from www.gov.uk/coronavirus or by calling 119. However, you still must self-isolate even if you do not develop symptoms.