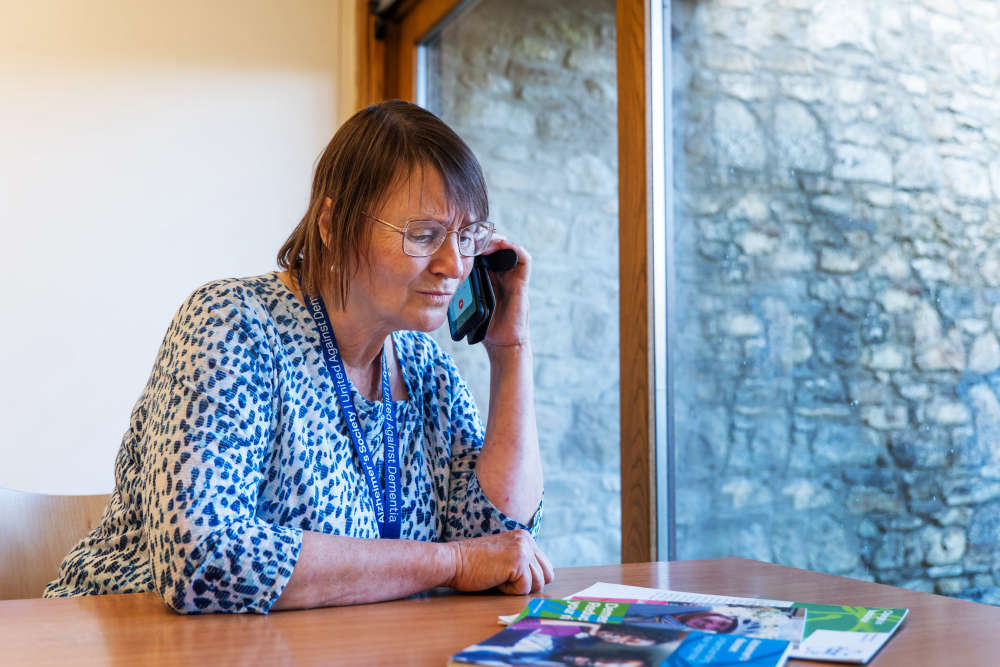 Too many people in Hertfordshire are experiencing dementia alone without the support a diagnosis can bring, the Alzheimer's Society has revealed.
To mark this year's World Alzheimer's Month (1 to 30 September) campaign, the charity is supporting the global focus on post-diagnostic support by highlighting the benefits of a dementia diagnosis.
World Alzheimer's Month is an annual event run by Alzheimer's Disease International (ADI) in September.
The global campaign aims to raise awareness and challenge stigma surrounding Alzheimer's and dementia.
This year's theme is Know dementia, know Alzheimer's – with a special focus on post-diagnosis support.
Joyce Crossfield, a Dementia Adviser for Alzheimer's Society in Hertfordshire, said: "Asking the same question over and over again is not called getting old, it's called getting ill.
"If you're worried for yourself or someone you love, you can come to Alzheimer's Society for support."
Across the East of England, the NHS estimates that 87,672 people over the age of 65 have dementia – of which 52,069 (59.4%) are diagnosed.
A recent survey carried out by Alzheimer's Society found that 9 in 10 people with dementia had benefited from getting a diagnosis.
However, some may put off seeking a diagnosis for several reasons such as thinking memory loss is a normal part of ageing, not recognising the signs of dementia, or feel too afraid.
Joyce added: "As an Alzheimer's Society Dementia Adviser, I help people to understand and come to terms with a diagnosis of dementia, access support and plan for the future.
"We're here for anyone affected by dementia. We provide practical advice, emotional support, and guidance for the best next step."
Here are five other reasons why people in Hertfordshire could benefit from receiving a dementia diagnosis:
1. Support from Alzheimer's Society
Alzheimer's Society wants everyone affected by dementia to know that whoever you are, whatever you are going through, you can turn to them for help.
The charity is a vital source of support providing information and advice through their expert Dementia Advisers, Dementia Support Workers and other services including their support line and website.
2. A better understanding of dementia
Dementia can cause changes to a person's mood and behaviour. A diagnosis can help people understand why someone may be feeling low, getting irritated easily or acting differently.
In communities where dementia is not well understood or accepted, a diagnosis can help to spread awareness and provide a reason for any changes.
3. Benefits and protection
Being diagnosed with dementia means you are protected from discrimination (being treated unfairly) at work by law. It can also give you access to financial benefits.
Alzheimer's Society has produced a factsheet on benefits for people affected by dementia which can be requested by contacting them or downloaded from their website.
4. Able to live a more fulfilled and less fearful life
A dementia diagnosis can be daunting, but a timely diagnosis can provide access to support and treatments that allow people with dementia to stay independent for longer and carry on doing the things that matter to them most.
5. Access to other peer support and social groups
It is important that people with a diagnosis of dementia remain a part of their community and stay connected to the people and the things they love.
A diagnosis can open doors to local services and other groups that can offer support and a safe environment for people affected by dementia to share experiences with others in similar situations.
Alzheimer's Society is encouraging anyone who might be worried about themselves or someone they love to take the first step, and contact the charity for support.
Visit www.alzheimers.org.uk/memoryloss or call 0333 150 3456 to speak to a Dementia Adviser.
For callers who do not have English as their language of choice, Alzheimer's Society can arrange a simultaneous language translation service.