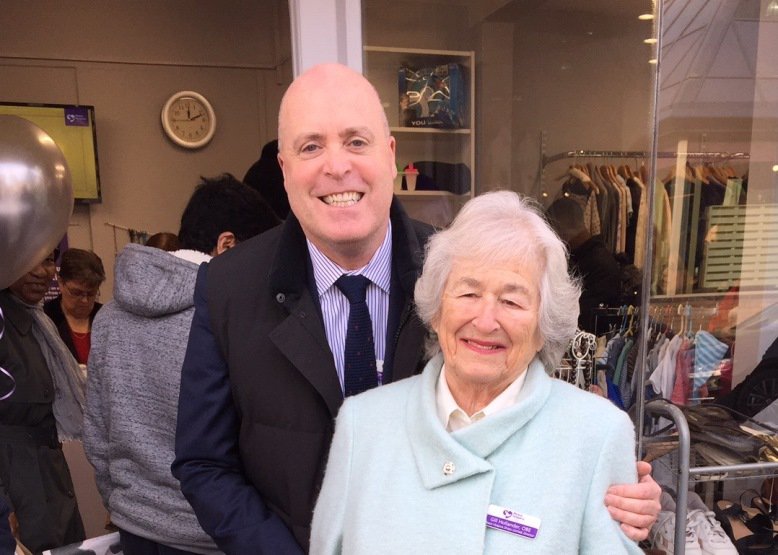 Gill Hollander OBE re-opens Peace Hospice Care's Watford Lower High Street Shop, 27 years after opening it as the charity's first shop in 1991.
At the re-opening, Gill was joined by volunteers Elizabeth Timmons and Margaret Redding, who have dedicated a combined total of 81 years of volunteering to the charity. Gill was the first Chair of Peace Hospice Care, and in 1998, received an OBE for her part in fundraising for the establishment of the Hospice. She re-opened the Shop after it had been closed for planned refurbishment as part of the charity's Shops' renovations. In the first twenty minutes of re-opening, the Shop took £150 in sales, with all items selling for one pound.
Speaking about the re-opening, Gill said: "I feel very honoured to have officially re-opened the Shop. I have fond memories of those days and when this Shop was first opened. It is amazing to see how far the charity has come over the years. The refurbished Shop looks great and I am sure the customers will enjoy the new look. I hope it will encourage more people to come in and support the charity."
Declan Carroll, CEO of Peace Hospice Care, said: "Our thanks to Gill for re-opening our Shop on a very successful day which was attended by some of our longest serving volunteers. Our Shop refurbishment programme has gone very well and we are already seeing a return on investment. Making these necessary upgrades to our Shops will encourage more people to visit our shops and help us raise more money to deliver our free services."
Peace Hospice Care needs £5 million a year to run its free services. Now, for every £1 of income received less than 20p of that comes from the NHS.
(Source: Peace Hospice Care).