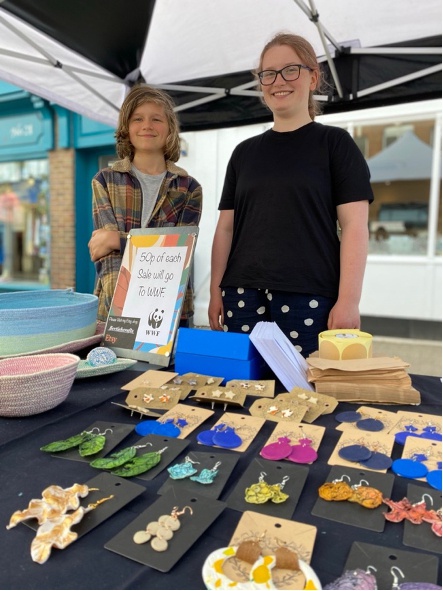 Credit: St Albans BID.
A new street market has opened in St Albans to help entrepreneurs under 30.
The Young Traders Market began in the city centre earlier this month.
Organised by local business owner, Sonya Jefferson, and St Albans BID, the monthly event aims to show young people the benefits of running a stall.
The market has also received backing from St Albans City and District Council.
A few weeks ago, a group of young entrepreneurs pitched stalls in Market Place to sell cakes, jewellery and alcohol free mojitos.
The Young Traders Market programme encourages 16-30 year olds to use markets as a platform to grow or start a business.
Now in its 9th year, the countrywide initiative is run by the National Market Traders Federation.
The association coordinates an annual competition for local young traders.
Danni Jefferson is founder of Jefferson Crafts, and one of the few under 30s trading at St Albans Charter Market.
In 2020 she won Young Trader of the Year for London and South-East, at the National Market Traders Federation awards.
The market business owner believes this event is a good way to develop young talent.
Danni Jefferson said:
"Young people need to be encouraged and given the opportunity to do something positive and follow their passion.
"I want people to see how easy and rewarding it is to set up and run a market business.
"You quickly learn new skills and become a part of the thriving business community here in St Albans.
"I'd urge anyone with an idea to take a stall, test and refine their trade and kickstart their own business journey."
Many well-known companies including Dunelm and Superdry, started on a market stall.
St Albans BID is keen to bring more young traders into the twice-weekly Charter Market.
Denise Parsons, Manager of St Albans BID, commented:
"St Albans BID is exploring different ways to bring footfall during the traditionally quiet transition period between our daytime retail shopping offering and the evening hospitality offering.
"Markets are at the heart of St Albans story, add vibrancy to our city and help attract day trippers and staycationers from competing towns and city centres.
"A Young Trader market offering is something new and different, and has the added bonus of being a platform to develop future Charter Market traders and city centre retailers!"
The Young Traders Market runs on the first Thursday of every month between 4-9 pm, and ends in September.
Stalls will be set up in Market Place, St Albans.
For further details visit: