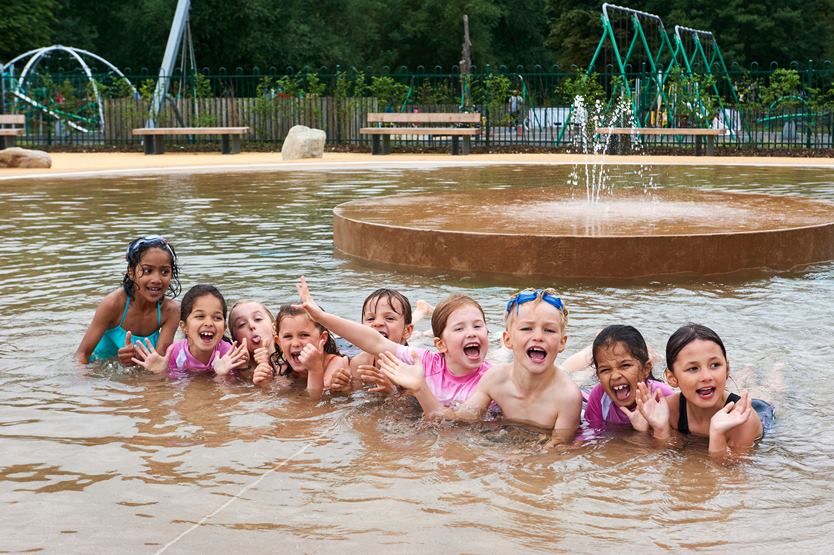 Watford's Cassiobury Park hub and paddling pools is now open after a £2.8m investment by Watford Borough Council and the National Lottery.
Enjoy this fantastic visitor attraction and enjoy the thrilling water splash fountains! You can also find out about all the fabulous activities that are available in Cassiobury Park. There'll be lots of things to see and do and, of course, music on the glorious, award-nominated bandstand.
A water play park with 30 state-of-the-art splash pads, water jets and fountains, is situated next to the two new paddling pools. There are raised "push buttons" for children of all abilities to control the water flow and flat surfaces so children with disabilities can enjoy a paddle.
The new hub include toilets, changing rooms, a community and exhibition room, education space, the Daisy's in the Park cafe and more. There are also Changing Places facilities for disabled users, so that everyone can enjoy this wonderful waterpark and community meeting place. The building uses natural materials and has been designed to be as energy efficient as possible, utilising a solar roof system, air source heat pumps and green roof.
The works have been carried out as part of a £6.6m regeneration of Cassiobury Park – funded by Watford Borough Council and with a grant of nearly £5 million made possible by National Lottery players through the Heritage Lottery Fund (HLF) and Big Lottery Fund.
Elected Mayor of Watford, Dorothy Thornhill, said: "The new pools and hub are absolutely amazing, they'll be free for everyone to use and fully accessible. Watford's paddling pools are one of our iconic features that generations of people who have grown up here know and love. Our investment, along with the incredible investment from the National Lottery, has transformed them into an exciting water play and splash area for families to enjoy for years to come. Our new hub will provide a meeting place for the whole community – and Daisy's in the Park café will have lots of tasty treats. You couldn't ask for a better day out."
On behalf of HLF and the Big Lottery Fund, Robyn Llewellyn, Head of HLF East of England, said: "Cassiobury Park is an incredibly important open space for people in Watford and thanks to National Lottery players its regeneration will ensure it continues to be at the heart of the community. We're delighted to celebrate the opening of the paddling pools and community hub, which will be a fantastic boost for well-being and play, a space for families and friends to meet and a gateway to the park's fascinating heritage."
Visitors will be able to use the car park in Gade Avenue for up to six hours. Just make sure you pick up a ticket at the newly installed machine. For the opening day, the car park will be busy. However, there are many car parks close to the Town Hall that visitors can use before walking to the park. For the full list, visit our car parks web page at watford.gov.uk/carparks
(Source: Watford Borough Council)