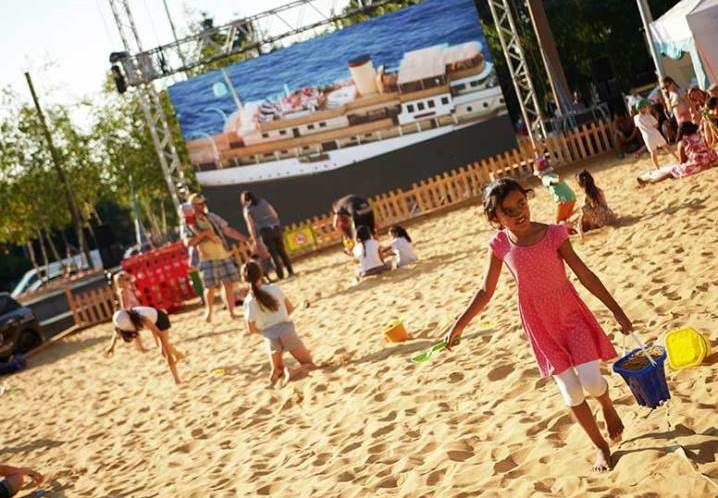 From Friday 28th July until Monday 28th August, Watford Borough Council is bringing the Big Screen and sandy beach back to The Parade!
You can look forward to big blockbusters including the award winning La La Land, Sully, and Kong: Skull Island as well as some great classics such as Harry Potter, Sister Act and Back to the Future 2. Go online for the daily film schedule and plan your film viewing. It's about to be a summer of sizzling sun (fingers crossed) and great movies in Watford and this is not to be missed!
Sandcastle Club will be back on weekdays starting at 10am with a variety of themes including Sun and sand, Jurassic Park, Pirates of the Caribbean and Mystical Creatures. There will also be other fun activities throughout the day, great food, drinks for all ages, and lots to do – fairground rides, table tennis and much more.
The fun doesn't stop there; Ibis Hotel, one of the sponsors will be providing some of their comfy and luxurious beds to give people the ultimate big beach experience. That's right; you can win the ultimate VIP experience and relax on a luxurious King sized bed with a cocktail or glass of champagne while you enjoy the movie, so make sure you're on the lookout for how to win.
And that's not all! We'll be turning our fun in the sun beach to an adult's cocktail evening from 7:30pm every day. Enjoy your evening movie with a cool sea breeze or a tequila sunrise sat round some romantic blue lighting with friends and loved ones whilst you enjoy some delicious food.
So whether you're coming to enjoy with the kids during the day or after work in the evening, we have something for everyone.

Elected Mayor of Watford, Dorothy Thornhill, said: "The Big Screen on the Beach was a huge success last year, the town centre was full of life and the atmosphere was great. Making Watford a family friendly town has been a priority for me since day one, and Big Screen on the Beach is now a highlight in our summer calendar. From children's beach games in the daytime to classic movies and cocktail nights in the evening, there's something for all ages to enjoy. I'm very excited about the films and activities happening this year. It's going to be even bigger and better than ever."
Great food, mouth-watering drinks, delicious ice cream, tasty deserts, luxurious beds, an incredible line up of movies, sandy beach and lots of other great activities, it's not to be missed! Last year was Big, this year will be better!
Go online to Big Screen on the Beach, part of Watford Big Events, to find out all the details you need.
(Source: Watford Borough Council)