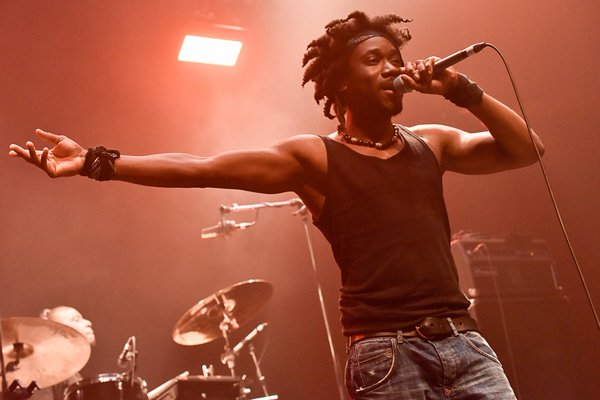 Dornik has been compared to Michael Jackson and Frank Ocean
Hailed by music critics as Croydon's answer to Michael Jackson, Dornik speaks to VIBE 107.6 FM's Friday Lunchtime presenter Will Njobvu about his new single 'God Knows'.
"Well yeah, it is about a girl. But you don't know which girl. The song's quite loose – you can take it how you want," Dornik replies as Will Njobvu asks him to lay out the real meaning behind the song lyrics that repeatedly says 'God Knows that I love you.'
'There's definitely a music video on the way'
In a handwritten letter published on Twitter, the artist hinted that visuals are on the way to accompany the soulful song. Confirming it to Will, the singer said: "All I can say for now is that the music video will be vibey and quirky. It's a fun video and I hope you think it's cool."
In 2015, Dornik released his debut album and two years on he's working on another one that'll contain more personal songs. "It will be personal as I've had much more life experience since then. I've lived more," he added.
Once upon a time, Dornik was just the church drummer. Never in the limelight. "It's not too late to join the church choir," he jokes. In fact, in 2013 he was more than happy to remain in the shadows and keep his bedroom recorded electronic soul songs to himself.
'It's fairly scary being compared to Michael Jackson'
Luckily for Dornik, this all changed when Jessie Ware – who he'd started drumming for – heard his tracks and urged him to become a solo artist in his own right. Now, he's signed with PMR Records, home to Ware and Disclosure.
Being compared to Michael Jackson is a "massive compliment" and "fairly scary," the artist says. Music critics have also branded him as the Frank Ocean of south London and it's all because of his smooth voice.
Clearly, Dornik's harmonic voice is one of his strengths but sadly there's a negative stigma around men singing. But does this bother him? The artist admits it did in the beginning, but not anymore. "At first I was like, everyone's watching and there's this whole stigma about guys singing. But now? Not anymore."
For more content like this, listen to Will Njobvu's Lunchtime show every Friday on VIBE 107.6 FM from 11am to 2pm.
Listen to the full interview here: