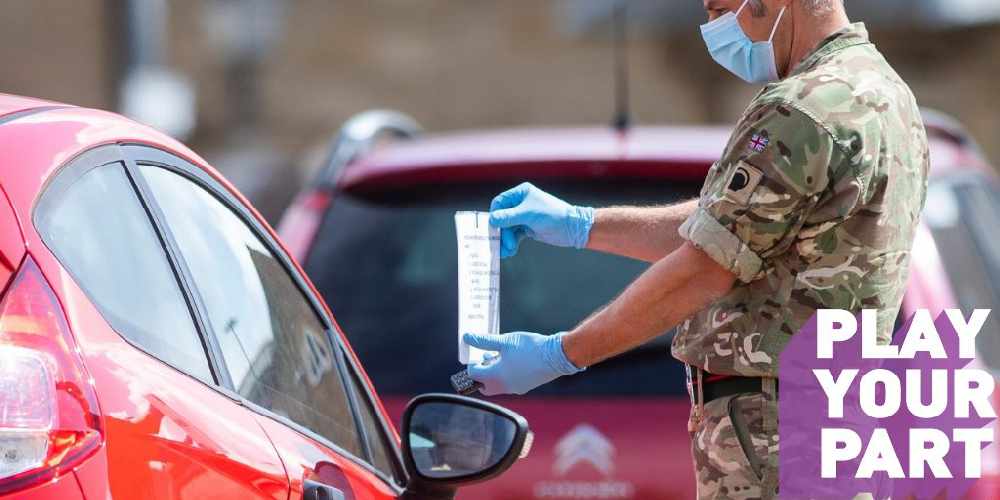 Picture: Hertfordshire County Council
The number of coronavirus infections within Three Rivers and Watford has increased, with the former now overtaking Broxbourne by having the highest rate across Hertfordshire. Figures released by the Department of Health and Social Care on Thursday (1st October), showed 6,914 new cases were recorded across the UK. This a slight drop nationwide compared to the previous 24 hour period.
Between 22nd- 28th September, the rate of new cases within Three Rivers was 40.7 per 100,000 of the population, with Watford obtaining a lower ratio of 31.1. However, these statistics are in fact much lower as opposed to other parts of the country, where case numbers are substantially higher. This includes areas in North-East England.
In a joint statement Councillor Tim Hutchings, Cabinet Member for Public Health and Prevention at Hertfordshire County Council (HCC), along with Councillor Sarah Nelmes, Leader of Three Rivers District Council, stated:
"We can confirm that Covid-19 infection rates in the district of Three Rivers have been rising, particularly in Croxley Green, Moor Park and Northwood, and South Oxhey, with all age groups affected so we need residents to carefully follow the government's guidance to minimise the risks of spreading the virus any further and to keep communities safe."
Both councillors are urging residents to continue 'to play' their 'part by wearing face-coverings where expected,' washing their hands frequently, 'observing social-distancing and keeping to the rule of six.' They added it is 'vitally important' for everyone to 'work together' in order 'to stop the number of cases rising,' and 'avoid tougher measures being introduced.' Finally, individuals who 'come into contact with someone' who has coronavirus 'should self-isolate for 14 days.'
In September, a 'pilot contact tracing' scheme was launched within Three Rivers and Watford. It was established to help support the wider NHS Test and Trace system. HCC has now announced that the new local scheme will be 'rolled out right across' the whole county. They have been working together with Public Health England and 10 local Hertfordshire councils.
Council staff 'will support' efforts to 'locate' those who 'come into contact with someone who has tested positive for Covid-19.' At present the trial initiative is still operating within Three Rivers and Watford, however it is anticipated that this 'will eventually merge' with the countywide system.
What is being said about the situation in Watford?
Interview with Elected Mayor of Watford, Peter Taylor.
During an interview this week with Vibe 107.6 FM the Elected Mayor for Watford, Peter Taylor, revealed 'there have been a handful of cases' within the borough. He added these had now been 'dealt with.' Nevertheless, the Mayor stressed the 'need' to 'remain vigilant' and for everyone to follow 'all the advice about wearing masks, keeping our distance and washing our hands regularly.'
When asked about the prospect of London entering a potential lockdown and whether this would affect Watford given its close proximity, Mr Taylor said:
"I think the main thing to say is that there aren't plans to have a lockdown in Watford at the moment. We are keeping really close tabs on the number of cases, ours are kind of at a medium level, but fairly stable."
He also stated that Watford's Public Health team were 'working seven days a week,' to make sure' the local Track and Trace system 'happens'. The Mayor went on to explain:
"Like the rest of the country, I think it's vital that if you have got Covid, you need to self-isolate. The team from Watford Council are contacting people that have been found to have Covid, making sure that they follow all the NHS advice. That we contact people they've been in touch with."
Overall, he stated people were adhering to self-isolation guidelines and that to date no fines had been issued, following the introduction of tougher penalties on Monday. The Mayor stressed the council does not want to 'issue' such charges. Yet, he made clear that residents 'do need to follow' the 'rules otherwise ultimately they could get a £10,000 fine.'