Picture: Hertfordshire County Council.
Hertfordshire County Council (HCC), has signalled the county could move towards Tier Two (high) of the English lockdown system, if coronavirus cases continue to escalate. The region presently remains within the Tier One (medium) alert level, whilst neighbouring county Essex is under Tier Two restrictions.
A new study by Imperial College London, has revealed there are now 96,000 new coronavirus infections each day within England. Researchers claim the pandemic is at 'a critical stage,' as the number of individuals catching the virus doubles every nine days. The React-1 study discovered the 'highest prevalence' of infections continues to be amongst 18-24 year olds (2.2%). However, 'the steepest rise' was within those aged 55-64 as rates tripled from 0.37% to 1.2%. Finally, the study suggests the rate of infection (R number) in the East of England region which Hertfordshire comes under, is now above 2.0. In contrast, NHS figures estimate the R number to be between 1.2- 1.4.
In a joint statement David Williams, Leader of HCC, and Jim McManus, Director of Public Health at the County Council, said:
"In recent weeks we've seen a significant increase in coronavirus cases across all parts of Hertfordshire, and across people of all ages. While Hertfordshire is currently in Tier One – the medium alert level – if cases continue to rise at the current rate it is only a matter of time before we need to move up to Tier Two, with all the extra restrictions that will bring."
They added it was 'still' possible to 'avoid' both 'stricter' and 'tougher measures,' if residents acted immediately to prevent the virus from spreading. The message remains to continue with regular hand washing, wear face coverings and maintain social distancing. In addition, Mr Williams and Mr McManus stressed it was 'particularly important' for 'anyone' with Covid-19 symptoms to self-isolate 'properly.' Moreover, 'staying at home' when you are 'ill' is 'the single most important thing' individuals 'can do to help' the County Council 'stop' coronavirus from 'spreading.' Both warned that 'even a quick trip to the shops' risked 'exposing other more vulnerable people, to this dangerous illness.' However, they acknowledged that 'most' residents were 'following these rules,' and their actions are 'definitely helping slow the spread of coronavirus' across Hertfordshire.
Mr Williams and Mr McManus then elaborated on the measures being taken across the county to curb the virus:
"Police and environmental health officers are stepping up action to enforce these rules where people refuse to comply, but we're confident that the vast majority of people in Hertfordshire have the good sense and community spirit to do the right thing and act to protect their families, friends, neighbours and communities.
We want to keep you, the residents of Hertfordshire, safe while also keeping the county up-and-running to support our businesses and our economy. We are well prepared and have detailed plans for managing outbreaks, but we can't control the spread of coronavirus without your help."
They urged everyone to follow the guidelines, as this will 'help' the county to 'stay in control' whilst 'we still have an opportunity.' Finally, if residents 'keep playing' their 'part' then the wider community 'can all stay safe in Hertfordshire together.'
What is the current situation with the virus across South-West Hertfordshire?
Between 19th - 25th October, the number of cases per 100,000 people within the population for local areas was as follows:
Hertsmere – 154 (162 new Covid-19 cases)
Watford – 148 (143 new Covid-19 cases)
Three Rivers – 114 (106 new Covid-19 cases)
St Albans – 103 (153 new Covid-19 cases)
Dacorum – 102 (158 new Covid-19 cases)
At present, Hertsmere has the highest rate within the locality whilst the average area in England, had 149 cases per 100,000. It is important to stress these figures are lower in comparison to other parts of England, under Tier Three lockdown restrictions.

In the most recent #AskTheMayor segment on Vibe 107.6, Elected Mayor for Watford, Peter Taylor, spoke about the possibility of the town being placed into Tier Two restrictions. Mr Taylor noted 'there is definitely that potential' based on the current figures, which 'rose quickly from the middle of October.' However, there has been no formal confirmation that Watford or the county itself will move into a higher tier. The Mayor stated the 'need' for numbers to come 'down,' and to make sure residents 'self-isolate if they have got Covid.'
Mr Taylor went on to explain at what point an area is placed into Tier Two, and the potential impact this would have on Watford:
"We know that once you approach 100 cases per 100,000, that's the level at which some council's move to Tier Two. We (the Council) are still doing everything we can. I don't want to go to Tier Two, if we can possibly avoid it. I think we do need to take action, all of us, to try and bring those numbers down to avoid seeing more restrictions. Nobody wants to see that happen and the impact that has on our businesses, and just not being able to meet up with friends and family in the same way. It's no fun at all as we approach Christmas, so we're doing everything we can to bring those figures down."
Watford Borough Council's Community Protection team recently delivered its Covid Action Week initiative, in conjunction with the Police. The team visited more than 400 local businesses to offer advice, and check that guidelines which safeguard workers or customers were implemented. Additionally, Police Enforcement Officers patrolled local streets to ensure members of the public complied with government rules. Warnings and Fixed Penalty Notices were issued to individuals without masks, or those who wore them incorrectly. The Police and Community Protection team are set to continue with patrols and the monitoring of local businesses.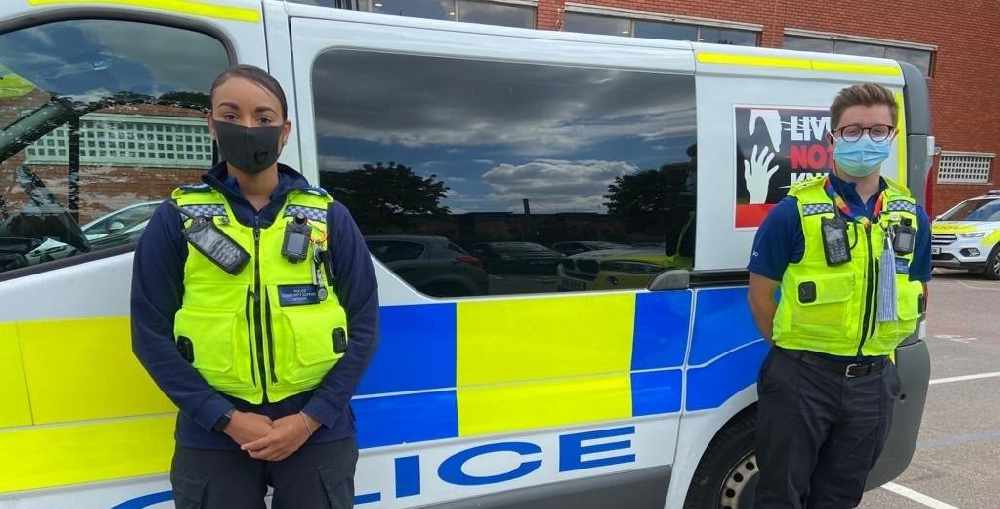 Police Officers involved in Watford Council's Covid Action Week. Picture: Watford Borough Council.
Watford's Chief Inspector, Ian Grout, said:
"Most people our officers encountered on the streets who were not acting as they should took immediate action to address their behaviours and it was encouraging that over the course of the week, we noticed a general improvement in Covid-compliance in public spaces across the town. But if a person does not comply when asked by a police officer then we will not hesitate to issue Fixed Penalty Notices to those who are not exempt, yet continue to wilfully ignore what is mandatory. We will continue to work closely with Watford Borough Council so residents and businesses face the consequences of their actions for ignoring the rules."