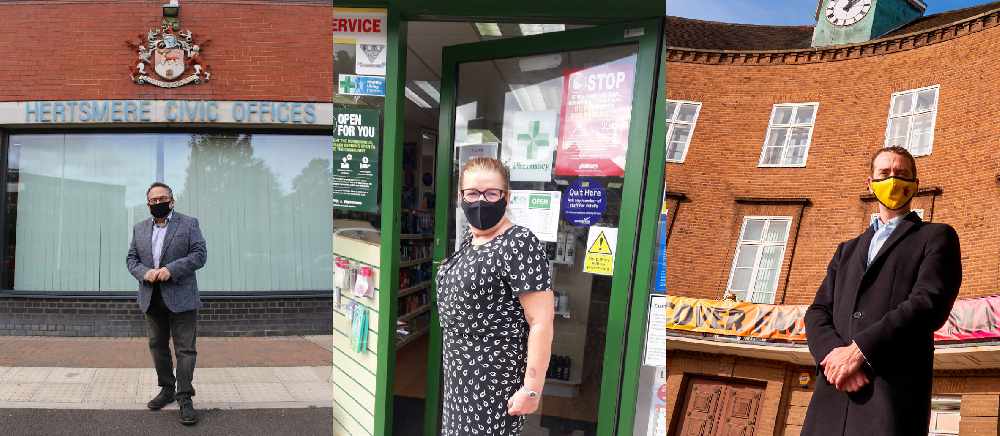 LTR: Councillor Morris Bright MBE - Leader of Hertsmere Borough Council, Councillor Sarah Nelmes – Leader of Three Rivers District Council and Peter Taylor - Elected Mayor of Watford. Picture: Watford Borough Council.
The leaders of three local councils have joined forces urging residents 'to pull together,' and help 'tackle the threat posed by' an increase in Covid-19 cases.
A statement issued by the Mayor of Watford, along with the Leaders of Hertsmere Borough and Three Rivers District Councils, advised individuals 'to do what is necessary' in order 'to prevent restrictions' and a 'possible lockdown.' Hertfordshire continues to remain in tier 1 of the English lockdown system.
For the week ending 20th October, the rate of new cases per 100,000 people was as follows:
Watford – 136
Hertsmere – 106
Three Rivers – 120
Councillor Morris Bright MBE, Councillor Sarah Nelmes and Elected Mayor, Peter Taylor said: 

"We are entering a critical phase of the Covid-19 pandemic. Across all of our areas more and more people are testing positive with the virus. We are also seeing the impact of these increasing infection rates on Watford General Hospital as people from our communities are falling seriously ill and are needing hospital care.
We know that this virus has already taken the lives of many loved ones in Hertsmere, Three Rivers and Watford and we must act now to keep our communities safe, reduce the strain on our precious local health services and prevent the need for further restrictions in our areas."
They go onto add that such 'restrictions would limit' residents 'being able to see friends and family.' In addition, local businesses would face 'another major pressure' as they try 'to keep going' alongside protecting 'people's jobs and livelihoods.' All three leaders state there is 'a small window to make a difference,' and that 'Covid-19 continues to pose a big risk to ourselves' along with those 'most vulnerable in our communities.' Their statement also stressed that 'everyone must do all' they 'can to protect people, and help keep' case numbers 'under control.'
They advise people to limit contact with others from outside their household, and 'follow' guidance when meeting family or friends. Additionally, residents should wash their hands regularly, wear face coverings and maintain social distancing. The three councils will 'continue' to work in close collaboration with Hertfordshire County Council, other local authorities, NHS partners and emergency services to prevent the virus spreading further.