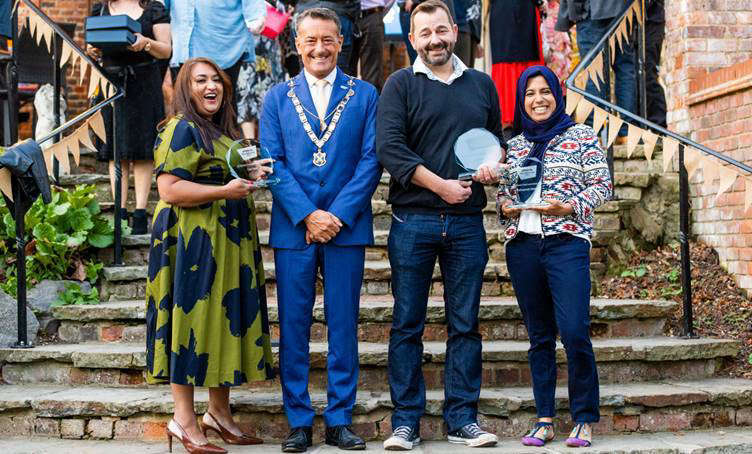 Award winners from L-R: Caz Kaur, Mayor of St Albans Cllr Edgar Hill, Jamie West and Raihaanah Ahmed. Credit: St Albans City and District Council.
The winners of the Kate D'Arcy Award have been announced by Enjoy St Albans Food and Drink Festival.
They include two publicans and a restauranteur, who all helped the city's most vulnerable residents during the pandemic.
The community champions were presented with their trophy earlier this week at St Michael's Manor Hotel, and will share the prestigious title.
The Kate D'Arcy Award recognises an individual that has provided exceptional customer service.
This year, residents were asked to nominate someone who had gone out of their way to help their community during the pandemic.
The 2021 nominations included people from a variety of hospitality businesses such as takeaways, market stalls, fine dining, family restaurants, cafes and pubs.
Normally, the annual festival honours local food and drink businesses within multiple categories.
However, given the disruption to the hospitality industry over the past 18 months from coronavirus, organisers decided to suspend all but one category.
A 14-strong judging panel voted for the Kate D'Arcy Award to be shared between the following three candidates.
Caz Kaur, Landlady of the Portland Arms – who transformed her pub grounds into a community shop and hub in the first lockdown.
This enabled local businesses that could not open or trade inside their own premises to sell essential goods.
The St Albans Landlady also made deliveries to people isolating at home.
Jamie West, who runs the Hare and Hounds in Sopwell Lane as well as the Rose and Crown, Sandridge – cooked and delivered meals to the homeless whilst home schooling his children. He also ran a soup kitchen at the same time.
Raihaanah Ahmed, Co-owner of the Meating Room Restaurant, and a Trustee of the Sopwell Community Trust – organised the distribution of food parcels to people isolating.
The Restauranteur established a food bank outpost for the elderly and vulnerable at the Abbey Theatre.
She also mentored women including some refugees to set up a food business of their own, along with helping to co-ordinate the delivery of thousands of meals to NHS staff and vulnerable school children.
Councillor Mandy McNeil, Vice-Chair of St Albans City and District Council's Business and Regeneration Committee, said: "Our hard hit hospitality businesses have such a heart for our community, and jumped straight in to work collaboratively to provide groceries, or to cook and serve thousands of residents needing support throughout the lockdowns, as well as trying to look after their own staff and each other.
"Some businesses opened up community hubs or community shops like Caz in St Albans District, including in Wheathampstead and London Colney, or provided heat and eat meals or cooked for vulnerable people, the NHS, our homeless and a food bank, like Raihaanah and Jamie.
"The judges just couldn't choose between the three winners and were in unanimous agreement that the Kate D'Arcy Award should be shared by all three of these outstanding community champions."
The Enjoy St Albans Food and Drink Festival began earlier this month.
Now in its 14th year, the event ends this Sunday (26 September) with the street Feastival, where thousands are expected to attend in the city centre.