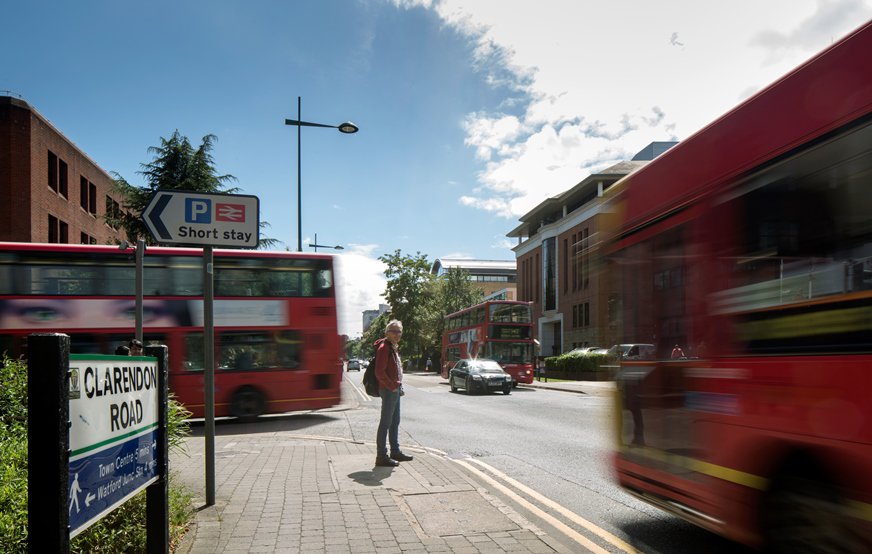 From Monday 24th September 2018, Clarendon Road in Watford will undergo the start of a major transformation programme
This project will significantly improve the Beechen Grove junction and surrounding area for pedestrians and cyclists as well as the overall look of what is one of the town's most well-used thoroughfares.
Watford Borough Council, in partnership with Hertfordshire County Council, is carrying out the programme in two phases. The first, which runs until December 2018 – will focus on improving the stretch of Clarendon Road adjacent to the RBS building and leading to Watford Market. The second phase - from January to March 2019 – will renovate the Beechen Grove junction itself.
Key aspects of the improvements will be to infill the subway that runs under Beechen Grove to link the two sides of Clarendon Road and to upgrade the surface crossing at this point (the one most people use that allows crossing from the Jurys Inn side to the town centre side). Additionally, the council will remove unwanted street clutter, introduce new paving, upgrade the traffic signals and resurface the carriageway. Better signage, landscaping and waste bins will also form part of the transformation of the area.
Elected Mayor of Watford, Peter Taylor said: "We've already carried out a number of improvements in the High Street by widening pavements and stopping vehicles from illegally driving through the town centre. We're now looking to extend these improvements through Clarendon Road by resurfacing the area, making it safer to cross to and from the town centre and installing new street furniture and lighting. I'd like to thank residents and visitors for your continued patience – the end result will be worth it."
For more information on the Clarendon Road and High Street improvement programme visit watford.gov.uk/clarendonroad
(Source: Watford Borough Council)