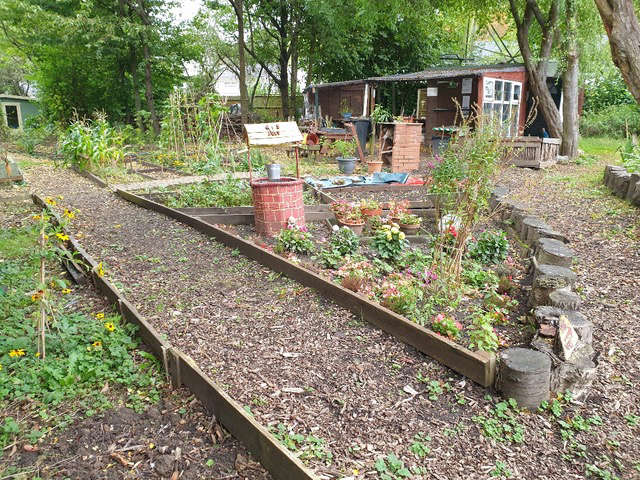 The new sensory garden will be created at the Dig Deep Allotment. Credit: ASCEND.
A South Oxhey charity is hoping to raise £1500 for a new sensory garden by taking part in Aviva's Community Fund programme.
ASCEND wants to create the relaxing space at its Dig Deep allotment project, with help from a horticultural therapist.
The charity has now set up a Crowdfunder page in partnership with the Aviva Community Fund.
The new sensory garden will be open to ASCEND's volunteers and members of the local community.
Tiffany Richards, Chief Executive Officer of ASCEND, said: "After such a difficult 18 months, we are really excited to raise money to develop a tranquil sensory garden at ASCENDs allotment project Dig Deep.
"With the support of a horticultural therapist, we want to create a space where people can just sit and enjoy the outdoor environment.
"Using the focal point of our already created dew pond, which already attracts dragon and damsel flies, tadpoles and newts, we want to use a combination of planting including herbs, grasses, lavenders, and plants that attract wildlife to promote both good environmental practices and positive wellbeing.
"We very much hope that the VIBE radio community will support us in getting this project off the ground.''
The Aviva Community Fund supports thousands of small charities across the UK. This year, the insurance company is working with fundraising platform Crowdfunder to help causes get their ideas off the ground.
Every three months, Aviva splits £250,000 of funding amongst its UK employees to donate to projects in the scheme. Charities can add to any money they receive from the Community Fund, with public donations through Crowdfunder.
The Dig Deep project offers training and personal development opportunities to adults of all ages. When ASCEND first took over the land 11 years ago it was derelict and overgrown.
Today the space is regularly tended by a group of 20 volunteers – who have spent more than 50,000 hours turning the area into a place of cultivation by growing produce for the local food bank, as well as encouraging wildlife to the site.
To find out more about ASCEND's Dig Deep Sensory Garden project and to make a donation visit:
www.avivacommunityfund.co.uk/dig-deep-sensory-garden
For further information about the charity's services and other programmes go to: