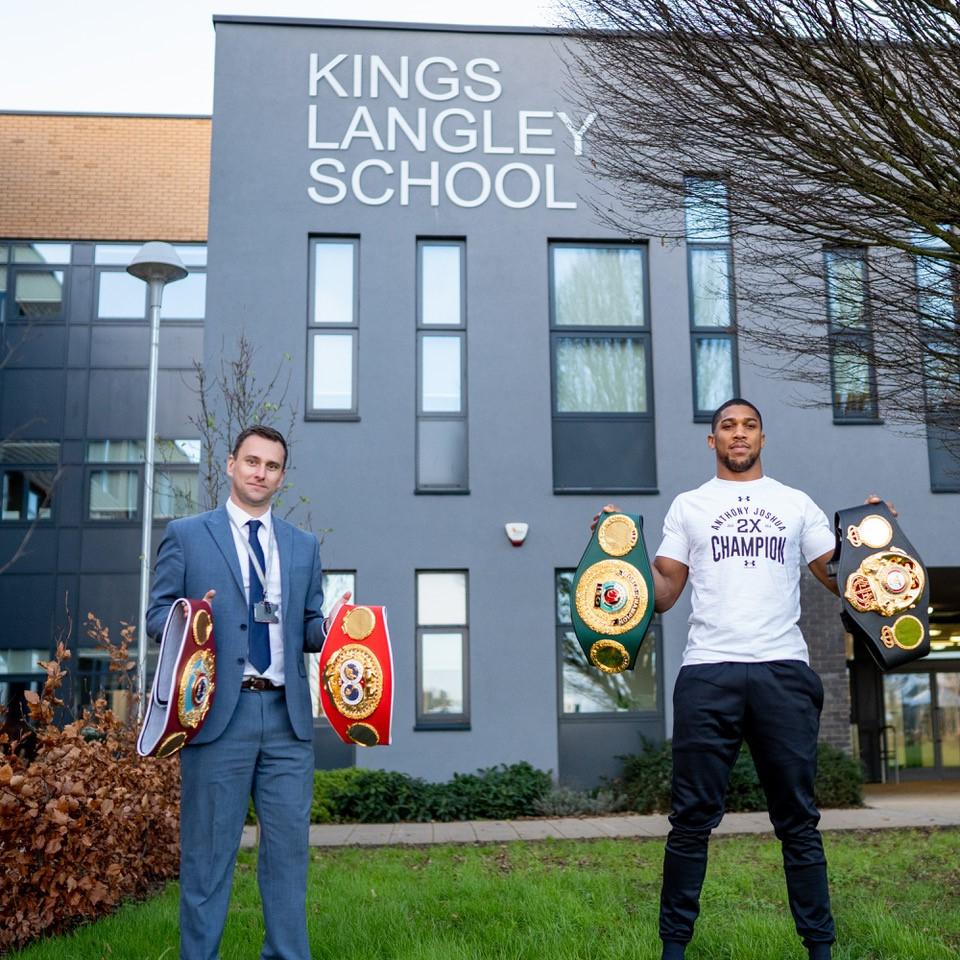 The school's headteacher, Mr David Fisher, with Anthony Joshua OBE. Picture: Kings Langley Secondary School.
Watford born boxer, Anthony Joshua OBE, recently went back to his former high school to film a virtual PE lesson. The two-time unified heavyweight champion has become Kings Langley Secondary School's newest 'employee.' Joshua secretly recorded a series of 'simple and straightforward' workouts within the school's gymnasium. The objective is to help students and their family members stay physically active whilst at home through lockdown.
The seven minute video which features on the school's website shows Joshua demonstrating several exercises including squats, press ups, reverse lunges, row boats and drags using a school bag. Furthermore, the boxer acknowledged 'how tough' it was 'right now' for pupils at home, and commended them for 'doing' all their 'lessons live.' He added their 'commitment will pay off,' but stated it was 'important to keep yourself active.'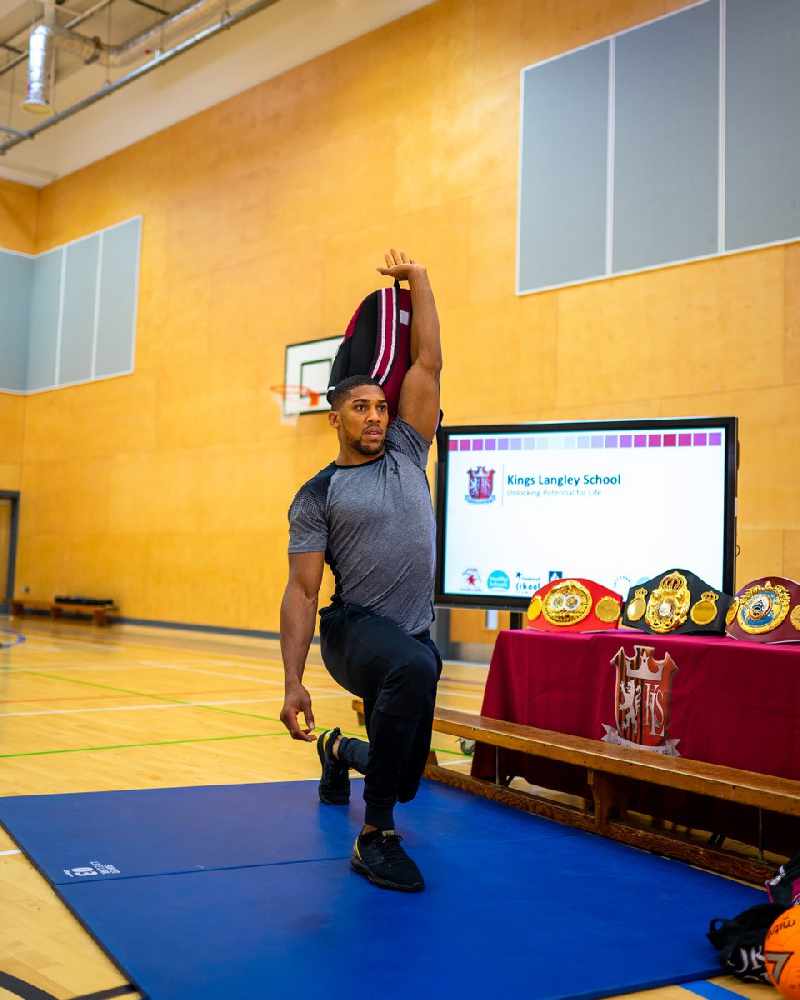 Anthony Joshua OBE, showing students how to complete an exercise with their school bag. Picture: Kings Langley Secondary School.
In an interview on Vibe Breakfast, Headteacher at Kings Langley Secondary School, David Fisher, said he was 'delighted' that Joshua and his team had 'reached out.' He explained how the champion boxer was keen 'to do something really special,' alongside 'giving back to the community and school.' Mr Fisher stated Joshua's video had 'kicked' the school's live PE lessons to 'a new level,' and that family members were 'getting involved' along with pupils. The headteacher revealed the school 'were determined' to deliver 'live' remote learning during lockdown. This meant offering a full body of subjects which included PE, given that students are currently working from behind a computer for several hours a day.
Mr Fisher outlined why the inclusion of physical activity was so important in the current lockdown:
"As a school we reflected on the first lockdown and we resonated with sort of four words really about consistency, and giving that through a fully live curriculum. Also something that really shocked us actually was the fitness levels of our children. As a school we're doing live PE lessons every day for our children, led by the PE department. They're High Intensity Interval Training (HIIT)."
He continued by stating teachers were 'talking to the children' about the importance of 'staying fit and active,' and used Anthony Joshua's video as a point of reference. In turn they are 'trying to' get pupils 'moving around,' whilst they work remotely. The school's live PE lessons also helped to feed into that.
Mr Fisher speaking to Jeremy Clarke on the Vibe Breakfast show.
The headteacher went on to say the school did not tell the students about Joshua's videos, and that 'only a very small group of staff knew about' the project. Mr Fisher described how the heavyweight champion was 'brought' into the school 'through a fire escape.' Additionally, there was a 'small film crew,' so that 'Covid guidelines' could be adhered to. However, Mr Fisher stressed what a 'fun day' filming had been, and was keen to show his appreciation to Joshua for creating 'treats' for the students.
He added:
"I just…really wanted to say thank you to Anthony and his team, for giving up a huge proportion of their day. It wasn't just a seven minute video. There was a lot of other clips… I think what I was blown away by was actually the genuineness behind it. He (Anthony Joshua) really warmed up. It was a really natural thing. Some of the other videos haven't come out... They're even more natural. He's wearing a Kings Langley name badge in some of the other ones, but I'm not going to give any more information out. We want them to come out to our students very naturally."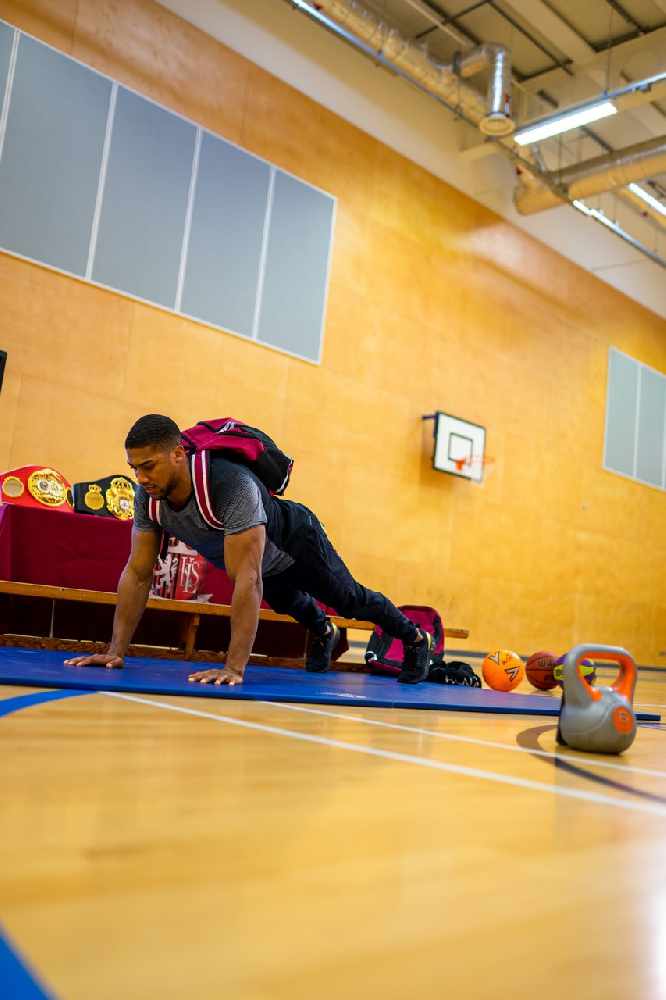 Picture: Kings Langley Secondary School.
Kings Langley School offers co-ed secondary and sixth form teaching to pupils of all abilities, aged between 11-18. It aims to provide 'opportunities for growth and excellence through the education of the whole person.' Mr Fisher indicated it was 'great' for students to hear 'all the experiences' Joshua 'has had through his life to be so successful.' The headteacher concluded by stating the boxer 'was determined to come back,' and the school 'looked forward to welcoming him.'