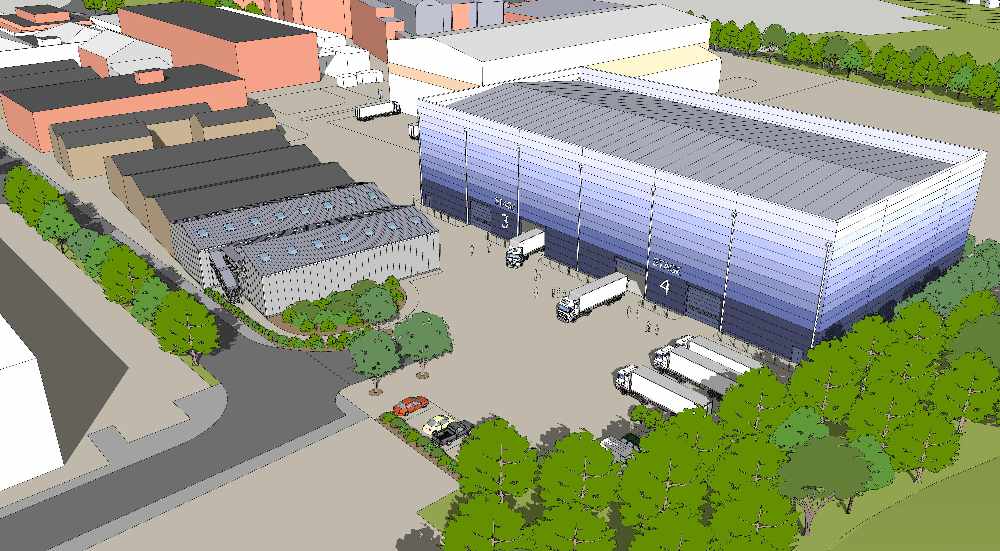 An artist's impression of the two new soundstages which will be built on the former Big Brother house at Elstree Studios. Picture: Hertsmere Borough Council.
Plans to expand Elstree Studios have been granted final approval. The project involves building two new soundstages and ancillary workshops, on the former Big Brother House site. Work can now officially begin after studio owners Hertsmere Borough Council, secured £6 million in government funding. The expansion helps to further cement Hertsmere's reputation as the 'British Hollywood' of the creative industries.
The announcement comes after Broadcasting Company, Sky, were granted permission in July to develop film studios in Borehamwood. A cross- party motion was also brought forward this week by Hertsmere Councillors, 'calling for the creation' of a film and television heritage centre. This is to celebrate the borough's 'long-standing association with the industry.'
The Elstree Studios deal was sanctioned by Hertfordshire Local Enterprise Partnership (Herts LEP) on the government's behalf. It will lead to the creation of 800 new jobs, along with apprenticeships for local school leavers and the unemployed. An additional £6 million in local authority funding for the new scheme was authorised in August. It was also agreed that £100,000 from the yearly rental income, 'will be invested locally' by Hertsmere Council into creative industries. This includes both media and creative businesses or initiatives, which equates to 30% of profits over the project's lifetime.
Leader of Hertsmere Borough Council, Councillor Morris Bright MBE, said:
"Elstree Studios has been the beating heart of our borough for nearly 100 years. Alongside the council's own funding commitment, this agreement with Herts LEP, means we have secured the future of the studios for generations to come. Not only is the ongoing vitality of the studios secured, this deal represents a huge opportunity for our residents, businesses and the UK creative sector."
Councillor Bright added the new work opportunities come 'at a time when many local people are facing uncertain or bleak employment prospects,' due to the 'ongoing impact' of coronavirus. He continued to say the 'income received' from the studios will be 'used' to subsidise 'day-to-day services' including parks, waste collections, community grants and street cleaning. Councillor Bright concluded that although the borough faced 'unprecedented economic and social challenges,' this new project along with the construction of Sky Studios Elstree 'is a ray of light for us all.'
Mark Bretton, Chair of Hertfordshire LEP and the LEP Network, said:
"It is vital that we continue to invest in the development of our key growth sectors to help strengthen Hertfordshire's economic fundamentals, and give residents greater opportunities for high quality employment locally. Our £16.8m Getting Building Fund allocation will back five major projects to boost Hertfordshire's high value sector clusters including film and TV."
Mr Breton also said 'the creative sector' had been 'particularly hard hit by the pandemic,' and that 'film production' was 'key to the livelihood' of many businesses. He further stated Herts LEP's 'investment towards the expansion of Elstree Studios,' was 'a huge vote of confidence in Hertfordshire's growing creative cluster.'
Minister for Regional Growth and Local Government, Luke Hall echoed a similar view:
"Creative industries play an important role in the success of local economies. That is why I am delighted that plans have been approved for the expansion of Elstree Studios."
Mr Hall reiterated the government's '£6 million investment through the Getting Building Fund' creates employment opportunities, and that the income generated from the expansion will be 'reinvested into levelling up the local creative sector.'
Before lockdown plans were established to finance the project using private investors. However, the current economic downturn has 'forced' Hertsmere Council to seek assistance from the government's Getting Building Fund via Herts LEP. The £900 million government fund was unveiled in August. The aim is to provide 'jobs, skills and infrastructure' to areas throughout the country, that face big 'economic challenges' because of Covid-19. Furthermore, it's investing in 'shovel-ready infrastructure projects' that have been agreed with mayors and Local Enterprise Partnerships, to increase 'economic growth, ... fuel local recovery and jobs.'