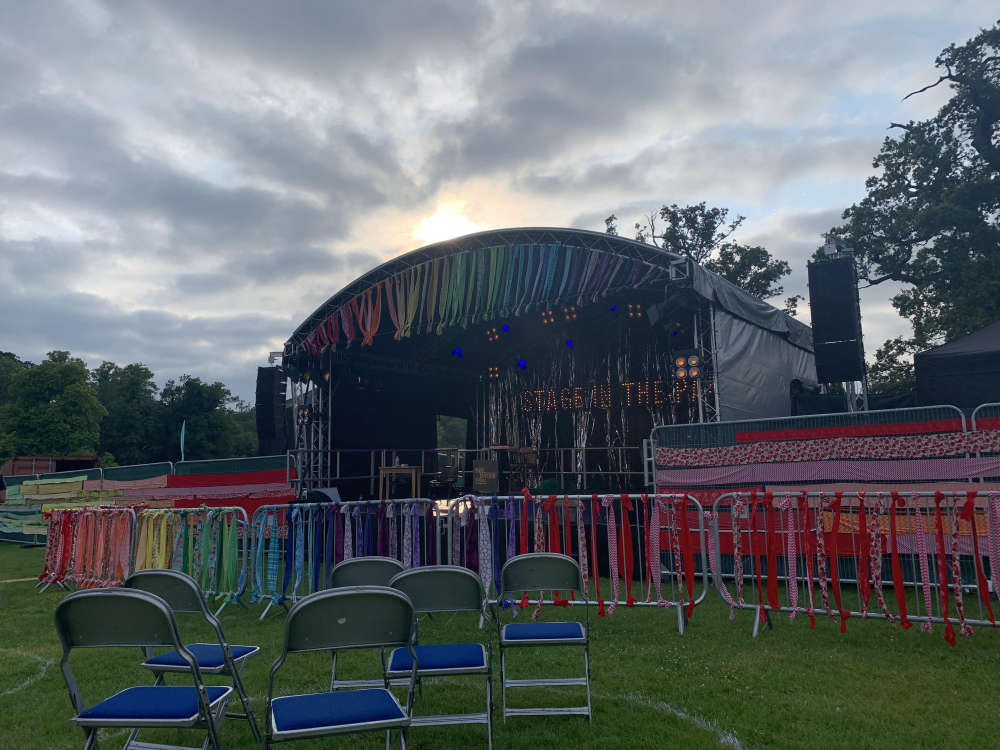 Credit: Jayni Vaghela.
A new outdoor event featuring some of the UK's biggest stage performers has launched in Watford.
Socially distanced audiences of up to 500 people gathered in Cassiobury Park over the weekend for The Stage in the Park.
The open-air venue played host to acts including Basil Brush, CBeebies' Katy Ashworth and Swinging at The Cotton Club.
The event has been organised by Watford Palace Theatre, Watford Borough Council and Harlequin Theatricals.
Artistic Director and Chief Executive of Watford Palace Theatre, Brigid Larmour, said: "It has been so wonderful to sit in a live audience and laugh together!
"It's been a tough old year in the entertainment business and it has really struck me how much it has meant to these brilliant performers to be able to entertain live audiences again.
"For a lot of them it's been their first chance to connect with an audience in over a year - and there is absolutely nothing like that live experience.
"Working outdoors has its challenges in the English summer - heatwave to rainstorm! - but even in the downpour on Sunday night the audience were tapping their feet along to the amazing Cotton Club singers and dancers - before getting on their feet to join in!
"It's an absolutely stunning location, and we have a beautiful bar and lovely food too, so everyone can make a day of it.
"Highlights for me personally in the next week would be Adam Kay and BRING THE LAUGHTER, featuring our very own Sukh Ojla, whose stand-up career was launched on the Watford Palace stage."
Daniel Clarkson from Harlequin Theatricals stated Stage in the Park's opening weekend was "simply magical".
He described how audiences "laughed" when the nation's favourite fox Basil Brush interviewed Mayor of Watford, Peter Taylor.
Mr Clarkson added that Olivier Award winning Showstoppers had "created musicals right before our eyes starring Darth Vader and Harry the bravest boy in the world!".
He continued: "The arts are back! So much more to come, so please let us welcome you as we celebrate an unforgettable summer together at Stage in the Park."
Stage in the Park features a mixture of theatre, comedy and live music acts that will keep everyone entertained.
The line-up includes comedian Adam Kay, international musician Joe Stilgoe and Britain's Got Talent finalist Nabil Abdulrashid.
There are also performances from Electric Umbrella and Palace Young Company.
Organisers will regularly treat and deep clean The Stage in the Park site, as part of Covid safety measures.
A variety of socially distanced seating arrangements are available including the option to bring your own seats, blankets and cushions.
Alternatively, you may hire a bubble of chairs from the venue. Food and drink can be purchased on the day from vendors in the hospitality area.
The Stage in the Park runs until Sunday 8 August.
To see a full list of performances and information on how to purchase tickets head to: