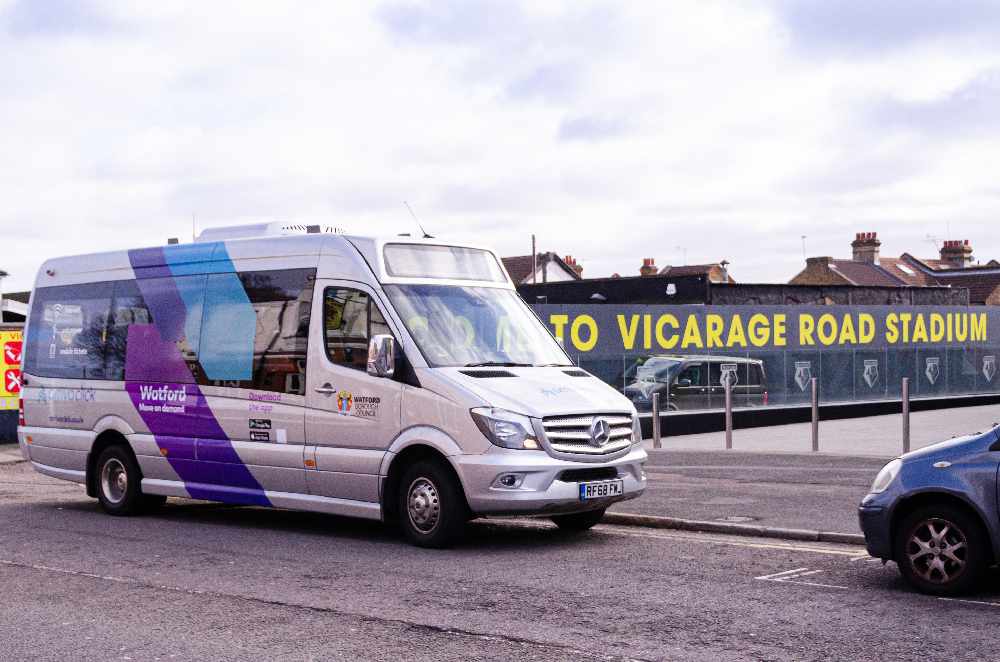 The service will be phased in, complying with government guidance and scaled up as the restrictions around COVID-19 are lifted.
ArrivaClick has launched in Watford to deliver a safe, reliable and sustainable mode of transport for essential travel in the town.
ArrivaClick is a demand responsive minibus service. Subsidised by Watford Borough Council, the service delivers a cost efficient mode of transport (priced between a bus and taxi fare), which can be booked and paid for via a free smartphone app or at watford.gov.uk/arrivaclick.
The service does not follow fixed routes, taking you from A to B in comfort. Customers can book from the comfort of your home and the service, responding to demand from passengers and the routes they want to take, will pick you up from a 'virtual stop' close to your starting point.
From 1 July, the service will operate with three minibuses operating at a reduced capacity of maximum four people at any one time. Service users will be asked to comply with the latest government guidance, such as the wearing of face coverings. A full cleaning regime will be in place and the driver will follow government guidelines at all times.
The buses will operate across the borough and to Warner Brother Studios and Croxley Park. Each bus will have comfortable seating, tables, free Wi-Fi, USB chargers and air conditioning ensuring a clean, comfortable and safe method of public transport.
Journey prices range from £1 to £2.50 per mile depending on the time of day and further discounts are available to regular users via weekly passes and credit bundles. The hours of operation will be 6am to 10pm from Monday to Saturday (extending to 11pm on Friday and Saturday evenings) and
8am to 9pm on Sundays.
Elected Mayor of Watford, Peter Taylor, said:
"It is important that we offer new ways to travel around the town so that we can cut congestion and make our air cleaner. I am delighted to be launching a demand responsive bus scheme for Watford and am confident that ArrivaClick will be a real success in our town. I am looking forward to welcoming the first buses to Watford and joining people in our town using them to get around."
Adam Toone, Business Development Director at Arriva says:
''We are thrilled to see that, in partnership with Watford Borough Council, we are able to launch the ArrivaClick service. It's really important that digitally, public transport plays a key role as lockdown measures are eased. Customers can be reassured that we're cleaning the vehicles thoroughly, using disinfectant and ensuring social distancing measures are followed at all times. We will continuously monitor the public health guidelines and ensure that we continue to keep our drivers and customers safe. We look forward to welcoming you on board."
The council's ambitious goal is to make the borough carbon neutral by 2030 after declaring a Climate Emergency last year. This requires making big changes to the way everyone in Watford lives, travels and works.
ArrivaClick is just one of the schemes in Watford promoting alternative modes of transport, along with the Beryl Bike Share Scheme, travelWatford app and EV charging points for electric vehicles across the borough. For more information,visit watford.gov.uk/sustainablewatford