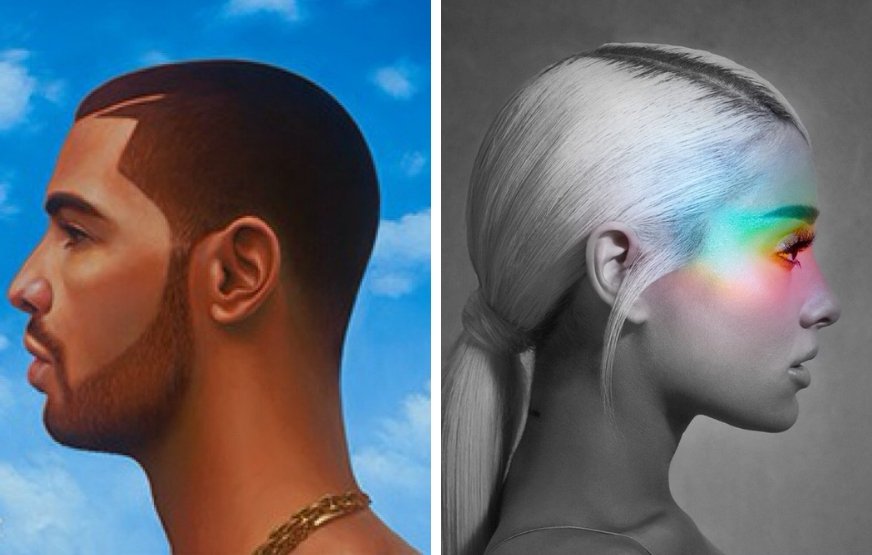 Female solo artists and girl groups occupied less than a fifth of the Official and Spotify charts in the UK last year.
Male solo artists, DJs and groups dominated the UK music charts in 2018, accounting for 83% of the number one tracks for the second year running.
Just three women reached number one for a total of nine weeks in 2018. In June, Jess Glynne was the first female solo artist of the year to reach number one, with 'I'll Be There'. Her seventh number one track set a new record for the most number one singles by a British female artist.
Next was Lady Gaga, who secured two weeks with her number one single, 'Shallow', in November, with Bradley Cooper.
Ariana Grande's 'Thank U, Next', lasted even longer at number one, with six weeks from November to December. Despite this, male artists Drake and Calvin Harris held top spots for longer with the singles, 'God's Plan' and 'One Kiss', which also featured Dua Lipa.
The Male/Female ratio has been counted according to the gender of the primary artist. When a male artist's track features a female voice as the guest artist, the song is counted in the male category. The same applies to groups like Clean Bandit, who have a female lead singer but a male majority.
2018 in comparison with the past
The 2018 charts were more imbalanced than they were in 1980, the time of Madonna, Cyndi Lauper and Kate Bush. Women reached number one for 17% of 2018 and 2017 respectively, an improvement on 2016, when just 5.77% of the weekly number ones were held by women. That year, Little Mix were the only women to top the charts.
The most equal year of the 21st century was at the turn of the millennium. 24 of the 52 number ones in the year 2000 were held by female artists and girl groups - that's roughly 46%.
A decade later, in 2011, artists such as Little Mix, Jennifer Lopez, Rihanna and Adele held repeat number one spots for 42% of the year.
Sarah Lay, an independent record label owner, music journalist and artist manager, said: "these statistics are disheartening, but not surprising."
"Diversity across the music industry is being addressed but I don't think we've found balance yet, and there are still pockets of negativity about female and non-binary music. Women still feel very 'othered' within the music industry."
Pop music producer, harpist and singer/songwriter, Hydra Lerna, also said she wasn't surprised by these statistics, but doesn't think the imbalance at mainstream level reflects the pop genre as a whole.
"There is an array of unsigned and independent female/non-binary pop artists that do not make the charts. As much as we make the effort to balance the music industry, the effects are yet to be seen in the mainstream."
Weekly Top 20: A breakdown
43 of the 52 number one singles in 2018 were achieved by men, and the breakdown of the Top 20 charts each week had a similar ratio. On average, 15 out of every 20 tracks were male artists.
November was the only month of 2018 in which every weekly number one was a woman artist: Lady Gaga and Ariana Grande.
The week ending 29 November was the one week in which more women appeared in the Top 20 music charts than men, with an all-female top six of Ariana Grande, Little Mix, Lady Gaga, Jess Glynne, Rita Ora and Halsey.
August saw the biggest disparity, with no more than three women in the Top 20 each week, while George Ezra and Drake dominated the number one spots.
The Official Charts are compiled weekly by the Official Charts Company, based on downloads, CD and Vinyl sales, audio streams and video streams.
Spotify Charts vary from the Official Charts, because users can stream multiple singles from the same artist when their albums are released. But the Male/Female ratio was similar, reflecting the same weekly trends.
Only two women got to number one in the UK Spotify Charts: Ariana Grande with 'Thank U, Next' and Mariah Carey with 'All I Want for Christmas is You.' Mariah Carey's 1994 track reached number one on Spotify with 5,371,453 streams in December.
The most streamed song of 2018 was Ariana Grande's, 'Thank U, Next', with 6,320,632 streams. Despite this, the Spotify charts were mostly influenced by rapper and singer-songwriter, Drake, who held the number one rank for 19 of the 52 weeks.
As another on-demand platform, Youtube is a significant player when it comes to influencing music charts, because popularity is based on the song, the artist or the music video.
Youtube combines music streaming with video watching, but the gender divide remains the same. Of the 52 weekly Youtube number ones, 10 were female artists.
Gender representation by voice
But what about the songs that 'feature' a female singer?
Although 83% of 2018's top singles are male-owned or attributed to a primary male artist, many feature guest artists that are women. This means we hear female singing voices much more often than 17% of the time.
For example, if the female number ones of 2018 were to include 'One Kiss' by Calvin Harris featuring Dua Lipa, the proportion would rise to 33%. This would rise further with the inclusion of July number one, 'Solo', by Clean Bandit featuring Demi Lovato, and April number one, 'These Days' by Rudimental, featuring Jess Glynne.
Male DJs and producers featuring a woman singer seemed popular in 2018. Jax Jones, Sigala, Calvin Harris, Benny Blanco, Silk City, and David Guetta all made it to the Top 20 in 2018, with a major part of their track sung by female artists.
"It still feels as if women are seen more as 'performer' than 'creator", said Sarah Lay, who co-founded independent record label, Reckless Yes. "This view needs to change, not just for balance in the charts but for equality across music."
With 20 years of experience in music, Sarah notes how even at grassroots level there is "the assumption that men are driving the decisions."
"There are networks and supportive areas of the industry - from Loud Women, to Get in Her Ears, through to the PRS foundation offering funding specifically to support female musicians - but there is still a long way to go."
Visualisations: made with Flourish