Step Up: All In
Cert (UK): PG-13
Runtime: 112 mins
Director: Trish Sie
Cast: Ryan Guzman, Briana Evigan, Misha Gabriel, Adam G. Sevani, Alyson Stoner, Mari Koda, Christopher Scott and Luis Rosado
Rating: ***
Will the franchise ever end?! Well, I hope not as Step Up: All In is the fifth instalment of an international dancing phenomenon that just keeps on giving.

Does it have a compelling, enigmatic, complex storyline? No. Can we predict the outcome? Yes. However we know that audiences do not go to a Step Up movie for drama; they go for the sensational, powerful and beautifully choreographed dance routines, and ladies I know a shirtless man with a great body isn't a miss (LOL). Although the storyline has been reused from the previous Step Up Movies, therefore we know how the story will move, Trish Sie still manages to captivate the audience and keep them coming back for more especially as she brings back the best of the best dancers that we have seen from Step Up 2 onwards, grace the cinematic screen.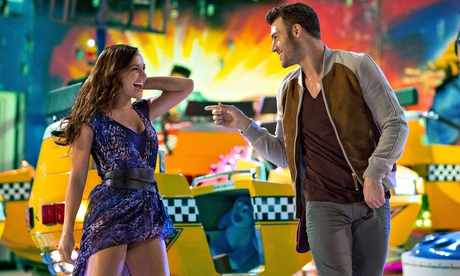 The "hero" crew from Step Up 4, The Mob, are in Los Angeles failing to book any dance gigs and while they are ready to go back to the streets of Miami, crew leader Sean (Ryan Guzman) is determined to make it in LaLa Land, putting together a new crew consisting of the best dancers to compete in a reality TV show, The Vortex, where the winning crew their own show in Las Vegas. With the return of Andie West (Briana Evigan, from Step Up 2: The Streets) there is a struggle for crew leader and of course a budding romance, which is a tiresome sub plot and almost irrelevant within this movie (Can two people dance together and not fall in love?). As the ultimate crew battle to win, they find themselves questioning there principles for entering the competition.
Performances within the film were inconsistent, mainly from the back up actor. I think it's clear that their dancing is a lot better then their acting, as the humorous dialogue was delivered poorly which was uncomfortable, but these are characters we have grown to love, therefore it is forgivable. The leads Ryan Guzman and Briana Evigan gave stronger performances, yet they were harder to relate to, as Briana (Andie) seemed to have lost her charm, and tomboyish coolness which we saw back in Step Up 2: The Streets, which was great to see in a female lead. Within Step Up 5 she does still hold strength and maintain strong female dominance she loses her impact to the audience making her harder to relate to. There is a similar situation with Guzman, who is a good male lead but there is an arrogance which also makes him hard to relate to. However the acting which is consistent since his arrival in Step Up 2, is Moose's (Adam G. Sevani), he is a real talent and a character who will always be needed in the Step Up franchise.
Trish Sie, directs a good movie, stylistically and visually as it is captivating, with every scene almost being picture perfect, which is typical of a Hollywood film and a summer blockbuster. Sie does captures the dancing brilliantly, presenting it as an art form. The musical score should also get credit as it is filled with artist such as; Pitbull, Diplo, Lil Wayne, Bobby Brown and many more incredible artist who's music is definitely going to get downloaded once you have seen this movie.

Step Up: All In is a great film if you can take it for what it is - a dance movie with good looking leads. Although it doesn't have a complex storyline and does involve mediocre acting, it is still very entertaining because of the dancing and unconditional love for the characters we already know. It is what it is: an enjoyable film. Go and see it.
Written by Harley Gower

(Step Up: All In is available to buy on Blu-Ray and DVD)