Believe (2014)
Cert (UK): PG
Running Time: 92 mins
Director: David Steinmann
Cast: Brian Cox, Natascha McElhone, Anne Reid, Philip Jackson, Toby Stephens
Rating: **
One word to describe Believe is CRINGE! A supposedly heart warming, inspiring British family film, was actually a boring, underwhelming, uncomfortable experience.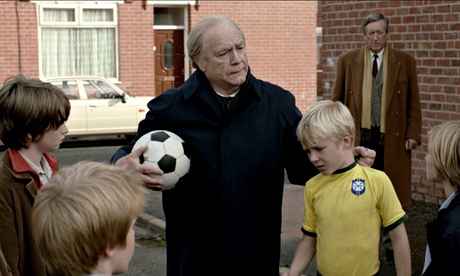 From the opening scene, the film projects a low budget independent vibe which provokes a slight relief, as there is hope the film will not follow a predictable Hollywood family storyline and take a slight risk. However we are quickly given a formulaic plot alongside an insupportable sub plot, although there are glimpses of sentiment and sweet moments the film fails to engage, impact or excite the audience with a real premise, as the film is a stale sports film cliché.
Believe is based on a true story, set in 1980's Manchester. It follows the retired Man United Manager Matt Busby (Brian Cox) who is pick pocketed by a young rebel Georgie, (Jack Smith) who has great passion and talent for football, (as he shows of some fancy footwork). Busby finds himself coaching Mancunian street kids in a under eleven junior tournament, but with Georgie studying to get into grammar school, the subplot provides the audience with a "will he make it to the tournament on time?" question for cinematic purposes of course, just like many other sport movies such as Bend It Like Beckham, Match Point, Dodgeball and many others. Both Georgie and Busby throughout the film are grieving as Georgie is coming to terms with his father's death and Busby is still affected by the 1958 Munich crash. Although both grievances provide the film with sentiment, and tearful moments, at times these storylines seem to be unnecessarily forced into the main plot.
Believe does provide us with naturalistic performances from the cast, the stand out moments would have to be the tender scenes between Brian Cox and Jack Smith. The young cast convey endearing moments, although I felt they were under used and Natascha McElhone delivers a convincing performance as a widower and single mother. Uncomfortable performances were by Toby Stephens who provides the light humour as the baddie, and Brian Cox at times felt quite cringe worthy to watch.
David Steinmann directs fairly well, as he captures Manchester in the 1980's, through the fashion, mis-en-scene and light British humour, but at times his filmmaking does feel slightly amateurish with the film technically looking low budget which fails to visually engage the audience. Although Steinmann presents a nice film, nice films should always go straight to DVD.
Written by Harley Gower
(Believe is now available to buy on DVD)