Annie (2014)
Cert (UK): PG
Director: Will Gluck
Starring: Jamie Foxx, Quvenzhané Wallis, Cameron Diaz, Rose Byrne and Bobby Cannavale
Running Time: 118 Minutes
Rating: 3.5/5
Annie is the musical that warms your heart and has you singing along to cheesy show tunes right? Not entirely, as this new and improved modern adaptation has you popping and locking, and making you feel really trendy as Jay-z's beats and Sia's song-writing reflect the contempoary setting of the present day 21st century.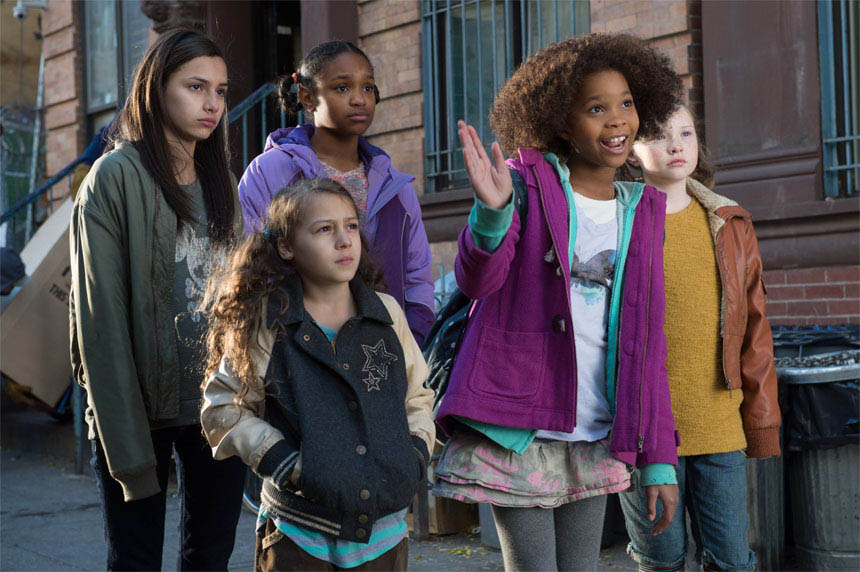 Despite the present-day setting in modern day New York City, director Will Gluck has maintained the same story concept as the previous 1981 film and 1977 Broadway Musical. Due to Annie's (Quvenzhané Wallis) parents leaving her as a baby, she has been forced to live a "hard-knock life" with foster mother Miss Hannigan (Cameron Diaz). However William Stacks (Jamie Foxx), a billionaire entrepreneur who is running for Mayor, takes Annie in to his home on the recommendation of his advisor's (Rose Bryne and Bobby Cannavale) as they believe she can help with his mayoral campaign. However, the more time they spend together, the more the fearless and confident Annie changes the outlook of Mr. Stacks life.
Annie is a heart-warming and entertaining family film as the narrative flows and is easy to follow for all ages. There are tender moments between Quvenzhané Wallis and Jamie Foxx, as their on screen relationship may make you tear up once or twice and both are strong in their roles. Quvenzhané fits into the role of Annie brilliantly; although she modernises the role, she gives the older generation a reminder of the original Annie through a sweet yet powerful performance.
There are some very humourous scenes from Cameron Diaz who takes on the role of Miss Hannigan. Although her nasty demeanour doesn't feel entirely convincing, her comical moments lift the film and at times she also gives a compassionate performance. Luckily her vocals are not as bad as they were in My Best Friend's Wedding, so don't panic! Supporting performances from Bobby Cannavale also lends humour to film as he slowly becomes the 'pantomime' villain and Rose Bryne (who probably shouldn't sing!) gives a softer performance next to the hard-nosed William Stacks.
Annie is a loveable film mainly due to the memorable musical numbers including the much loved Tomorrow and It's a Hard-Knock Life which has been given a modern update. Singer/songwriter Sia, rapper Jay-z and Greg Kustin have rearranged the songs for a new audience including writing three new songs for the film; Opportunity, Who am I and Moonquake Lake, with Sia additionally writing The City is Yours. All the numbers are just as catchy and in this revamped version neither adults or children will be embarrassed to be caught listening to the Annie (2014) soundtrack.
Annie has everything a family film needs, but cooler. For the new generation who haven't seen the previous versions it will be an entertaining, fun filled musical. Overall Annie is an above average musical which is watchable and endearing, and I recommend you all to see it.
Written by Harley Gower
(The Blu-Ray and DVD release date are to be confirmed).