American Hustle
Here's Howard's film review of David O. Russell's comedy drama American Hustle.
Cert (UK): 15
Runtime: 138 mins
Director: David O. Russell
Cast: Christian Bale, Amy Adams, Bradley Cooper, Jennifer Lawrence, Jeremy Renner.
Rating ****

This superbly acted film which seems not to take itself too seriously opens with the words "some of this actually happened". Indeed, some of it may well have done, as the FBI ran an operation called Abscam in the seventies in which an experienced con-artist, played here by Christian Bale, with a paunch and swept over hairstyle, helped ensnare various public officials who agreed to take bribes from a fictional sheikh.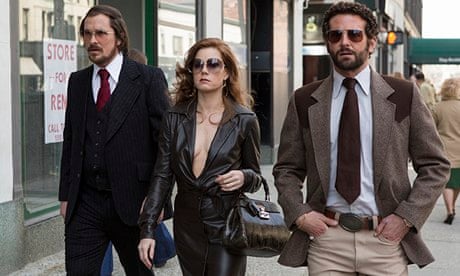 Writer-director David O. Russell works once again with the stars from his last two movies, Christian Bale and Amy Adams from The Fighter and Bradley Cooper and Jennifer Lawrence from Silver Linings Playbook with all four seemingly enjoying the freedom they appear to have to bring the characters they play to life.
Bale plays Irving Rosenfield the professional con-man, a role far removed from the heroics and physique required for the Batman movies, but which once again reiterates that any film with him in the cast is probably worth going to see. Nevertheless, its his partner in crime Amy Adams as Sydney Prosser, a would be English aristocrat who in some ways steals the show, as she depicts a character as capable as that of Bale's at the bluff and double bluff, but who is desperately searching for someone to want and love her.
Bradley Cooper may have less to go with as FBI agent Richie DiMaso, but he brings a sense of fun to the part as DiMaso finds himself embroiled in a sting that he cannot control. They are joined by Jeremy Renner who plays Carmine Polito, a really honourable and passionate politician whose only flaw is that he can have his head turned in the crooked world of American politics. Amongst some glittering, entertaining and humorous performances Robert De Niro appears as a Mafia boss, in a cameo, which provides a glimpse of some of his earlier roles as he adds a touch of menace and threat whilst the main cast start to find themselves deeper in the underworld than they may have wished for.
It would be too difficult to describe the plot in any detail and anyway it would give some of the enjoyment away as the film accelerates into guessing who is actually conning who and on what level. However, in broad terms the pairing of Rosenfield and Prosser both on a personal and professional level forms the core of the storyline, as their success in conning individuals catches the attention of agent Di Maso, who makes them an offer they can't refuse in using their skills to snare a range of leading politicians. Alongside this plot is the relationship Rosenfield has with his wife, played by a needy and grasping Jennifer Lawerence who plays Rosalyn, a middle America stay at home mother, with huge gusto and energy, none more so than as she does the housework to the booming sound of Live and Let Die having devised her own scheme to bring down her under pressure and faithless husband.
Visually this is a real treat evoking all that was good and bad from the seventies, as the camera sweeps through '70's style luxury hotels and suburban homes with their thick carpets and heavily patterned curtains, we also get introduced to the very first microwave which Rosalyn dismisses in short order. Put this alongside some wonderfully low cut dresses worn by Amy Adams, big collared shirts, excessive amounts of jewellery and ridiculous haircuts and we have the look and feel of a decade that feels even further away than in reality is.
Add to this mix a catalogue of music from this period, including David Bowie's Gene Genie, always a treat, which bring their own memories for those old enough to remember them first time around and we have one of the most enjoyable films of 2013.
Nominated for ten BAFTA's, including Best Film, Best Director, Leading Actress, Leading Actor, Supporting Actor and Supporting Actress, it will surely win something at next months presentation . Go and see it for its sheer exuberance, fantastic cast and those Amy Adams dresses, how do they keep her decent, let me know. Enjoy!

Written by Howard Groves

(American Hustle is available to buy on DVD and Blu-Ray)