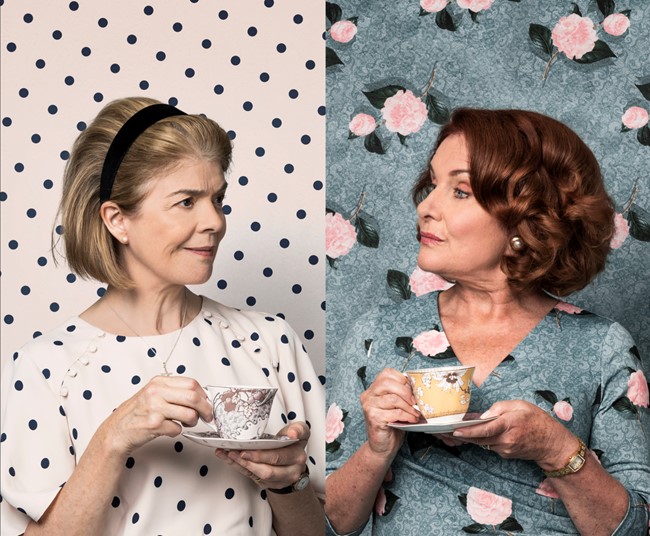 An evening of three entertaining monologues by one of Britain's most brilliant and best-loved writers
The latest production on at the Watford Palace Theatre ''Talking Heads'' invites us into the hearts and minds of three peculiarly English ladies - Muriel in her tweed skirt and pearls in Soldiering On, the public-spirited Miss Ruddock in A Lady of Letters, and Susan, the long-suffering Vicar's wife in Bed Among The Lentils.
Actress, impressionist and Dead Ringers star Jan Ravens will play Muriel and Miss Ruddock, with accomplished stage and screen actress Julia Watson, seen recently as Leonato in Much Ado About Nothing at Watford Palace Theatre, playing Susan.
With her unique mix of hilarious mimicry and sharp satire, Jan Ravens is one of the UK's most successful impressionists. She is a long running star of BBC's Dead Ringers and was recently a panellist on ITV's The Imitation Game, appearing on the 2018 Royal Variety Show.
Her Theresa May impression has achieved cult status, going viral on social media and with over 1 million views on YouTube.
She is a regular contributor across BBC Radio 4, on programmes such as Just A Minute and I'm Sorry I Haven't A Clue, and also current affairs programmes such as Broadcasting House, The Week in Westminster and Today. Jan has acted in countless R4 dramas and comedies, most recently The Charles Paris Mysteries and Alexei Sayle's The Absence of Normal.
Alongside her work on screen and radio, she achieved rave reviews and broke box office records with her solo show Difficult Woman. She has just completed a sellout tour with Rory Bremner and is now working on her 2019 Edinburgh show, Who Do I Think I Am?
This will be Julia Watson's third play at Watford Palace Theatre. In 2018 she played Leonato in the all-female Much Ado About Nothing and nearly 20 years ago she appeared as Hester Collyer in The Deep Blue Sea.
Her stage work is extensive, including several plays at the National Theatre and the West End in London.
Artistic Director Brigid Larmour directs, following her successful production of Alan Ayckbourn's comedy Absurd Person Singular in 2019.
Warning this production contains smoking.
Tickets for Talking Heads can be purchased here.