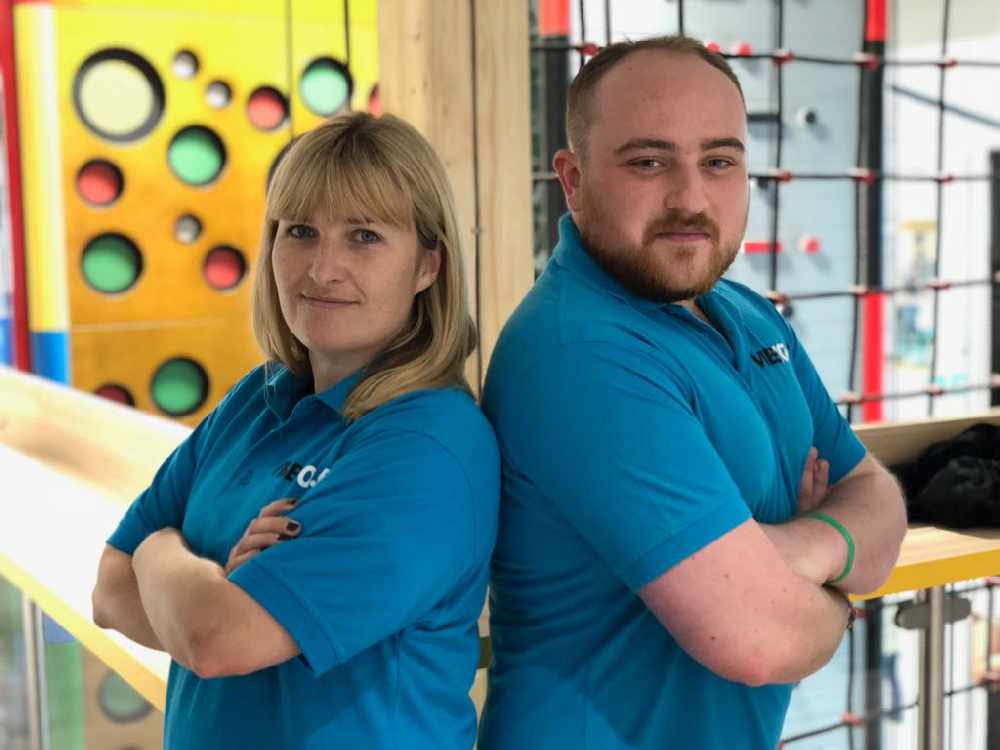 Laura Alexandra (left) and Chris Milligan (right) (Photo courtesy of Lisa Pearson)
Presenters Laura Alexandra and Chris Milligan were among some of the first to climb the all new 8-metre climbing walls at Rock Up, which officially opened on Saturday 8th September.
Chris and Laura were fear-stricken on Friday morning as they looked up at Rock Up's 27 new climbing walls. Yet, having never climbed before, they embraced the challenge and took on some of the hardest walls.
Everyone in the Vibe 107.6 FM team had great fun testing out the different activities available, and Chris and Laura even plucked up the courage to try Rock Up's 'Stairway to Heaven' climb, which involved jumping from 8 metres high into nothingness!
So, who do you think won the climbing challenge?
Now officially open, Rock Up really is great fun for all ages and abilities. (Climb from 4 years.) No experience or equipment needed and there is also a fantastic large soft play area. Open all day, their café will offer a great selection of freshly prepared food and drinks. From paninis to pizza and home-made cakes to speciality coffees and smoothies.
Rock Up is also a superb venue for birthday parties, and they also support & work with community groups from Schools to Scouts, Cadets to Sports Clubs & many more.
So book online or in person now at Rock Up on the Upper Mall, intu Watford and enjoy a climbing challenge!