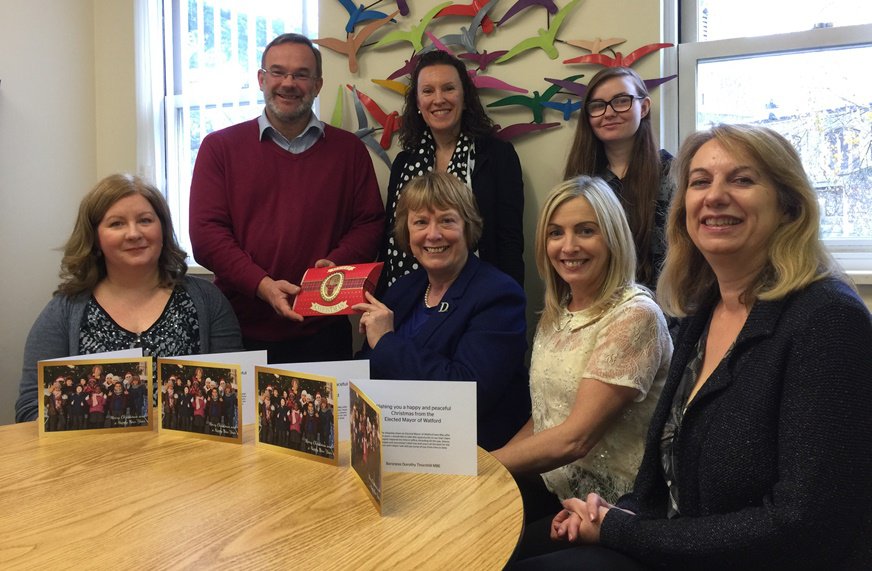 Chief Executive of Signpost William Allen, Elected Mayor of Watford Dorothy Thornhill and Signpost staff
Baroness Dorothy Thornhill MBE, Elected Mayor of Watford, presented local charity Signpost with a donation of £4,350.
Since 1973, Signpost has been supporting Watford residents aged 11-25 to get back on their feet to overcome a range of issues, including depression and abuse. Signpost offers one-to-one counselling, coaching sessions and outreach activities to engage with young people. Their annual Christmas card is delivered to charities, voluntary groups and businesses across the town.
Mayor Thornhill said: "I am very honoured that a number of local businesses have again chosen to kindly sponsor my Christmas card. Many thanks to Warner Bros., Sigma, Veolia, West Herts Golf Club, Everyone Active, Watford Colosseum, Humphreys Data Management, Watford Football Club and Wenta (Watford Enterprise Agency). I am so pleased that their generous donations will have a positive impact for my chosen charity Signpost this year, so that they can continue helping young people in Watford and across South and West Hertfordshire."
William Allen, CEO of Signpost, added: "Signpost is delighted to be the Mayor's Christmas card charity this year. As well as the valuable financial support for our work, it is great to have our profile raised in the community. It is especially important that young people know that free, community-based counselling is available locally at a time when teenage mental health is such a growing problem."
This year's card shows a photograph of the Mayor with local schoolchildren from Central Primary school.
More details are available online if you would like to donate or find out more about the services offered by Signpost.
(Source: Watford Borough Council)